Alright. I admit. It is just a BIT ghetto.. but its amazing fun.
I build a temp version of this gun about a week or 2 ago. It was a 1.25L bottle with a blowgun in the bottom and a tyre valve in the lid. i just attatched the barrel to the blowgun and thats how i shot it.
It worked fine, but then I decided i would make a newer version of it, and make it easier to hold and shoot.
I took my brass corner piece off my inline, and put it in the end of the bottle. Screwed the blowgun into that. I also sleeved the barrel with 3/4" electrical conduit and put a coupler on the end. I then tested this, and it worked fine so I decided to replace the bottle and the lid, because the lid was under stress from the pressure. I wrapped the bottle neatly in electrical tape for a little bit more strength. I know it isnt much but it is all i needed.
I am impressed with the power of this gun, I get about 3-5 shots that will shoot through a newspaper, and about 5 shots after that which are still powerful. Then I also get more shots, but they decrease in power rapidly when the tank is nearly empty.
My main ammo for this gun is lead split sinkers wrapped in tape for a tight fit. I also have one ball bearing that fits perfectly(others are to big) and i shoot that some times. I also shoot airsoft bbs wrapped in tape sometimes.
I have also made darts out of rivets.
If im using it in an airsoft skirmish i would use airsoft bbs wrapped in tape, not just airsoft bb's by themself. The reason for this is when i shoot them at things they split in half because of the pressure.
Okay. I think have done enough explaining for now, ill post some pictures.
There might be a video later today.. depends on how im feelin.
*****UPDATE*****
I went out to bunnings, and bought a new blowgun because i snapped the old one, and i also bought pressure pipe and caps. I put this gun together yesterday and ive only taken it up to 135psi. I dont think my priming/gluing is neat, but hey. its my very first time.
GAUGE AT 120PSI:
PISTOL GRIP BLOWGUN, FILL POINT AND GAUGE: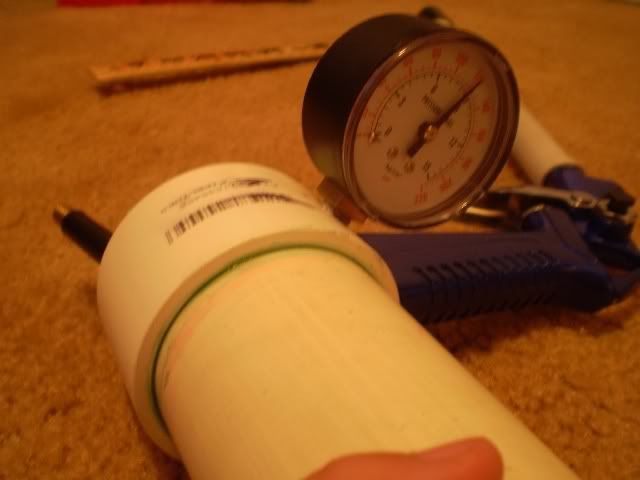 TOP OF BLOWGUN CLOGGED WITH A BB AND HOT GLUE:
http://www.youtube.com/watch?v=FiBqQfQKGdM
Will get more pictures later. There should be more cosmetic upgrades coming soon.