Well this is a new type of cloud, still the same basics but 'souped-up' MP5 style.
It all started when I though I would make a cloud, But I wanted something different, something better....So I decided I wanted the blow gun at the back, so it looks cooler and it feels better, But after consulting a few members we decided that wouldn't work as the air flow will just go over the top of the BB's. So I improvised and kept the Blow Gun at the back but diverted its flow via pressure hose to the 'belly' of the cloud where a normal cloud's blow gun would be placed. It works like a charm and feels like a MP5. I have minor jamming issues because of spray paint on the inside got some BB's stuck early on, but a shake or two does the trick and ill have to get a video to guess the ROF as its bloody quick.
The barrel is made from a weed-sprayer gun and is connect into a hose fitting which is then connected to a 20mm nipple. To load I just unscrew the barrel via the nipple and poor in the BB's. The flow is great considering the hose is thin. The handle of the tee is blocked off with cotton balls to stop air going down the handle and inside the tee there is a wire mesh to stop the BB's going down the handle. The brass tee where the blow gun is connected to is blocked off where it joins onto the back of the cloud to stop the air going through and makes it divert through the hose. The BB's are too big to fit through the barbed hose adpater so no problems there. About 1/8 of the back of the tee is blocked of with a LEGO wheel so the gun doesnt take to many BB's to fill up.
Now for some pics:
Full Over-View Of Cloud
Close-Up Of Cloud And Hose
Cloud With Barrel Removed Next To My Dog Named Milo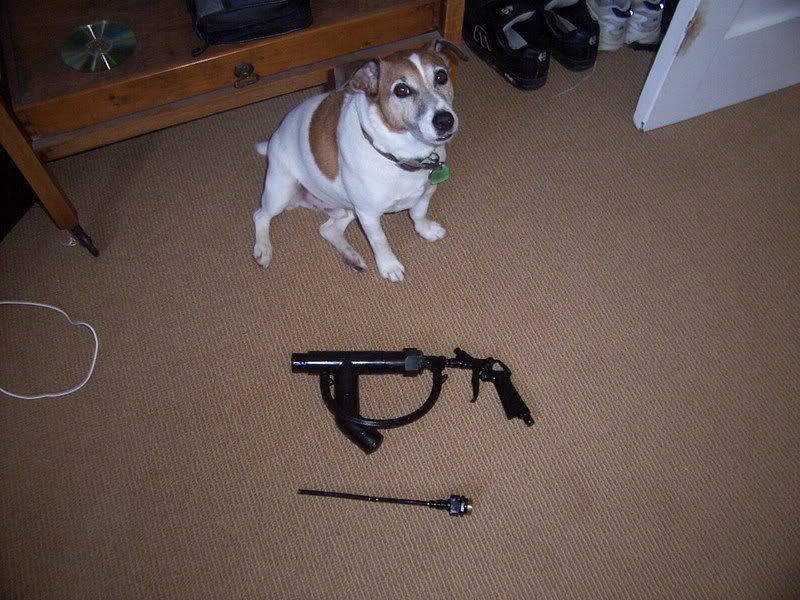 Edit:Sorry for the bad lighting in some of the pics
Update: <A HREF="http://s75.photobucket.com/albums/i290/MrCrowley45/?action=view&current=CloudTakeFour.flv">Video</a>