Hey again, I was looking at Ant's semi-auto (i think it's semi) and after thoughts on how the gun works and how to construct it, I've drawn an interpretation of how his semi-auto gun works. The only thing that the design I drew that I could think of that was that different from Ant's Gun was the trigger. If you squeeze the trigger in his gun, only one burst of air comes out whereas in my picture if you hold on the trigger air will be let out until you let go of it. Therefore you have to squeeze the trigger quickly for consecutive bursts of air. I've also added a famas style magazine from behind for looks and abit of realism.
Here is my design: Inline air gun
Comparing it too Ant's gif image,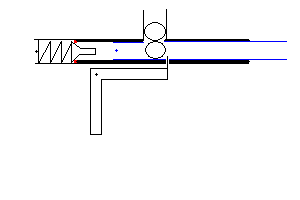 I'm going to work on this gun first and I'm going to sandwich it or put bits and pieces of a toy carbine around it for looks, cept for the magazine of course. If this gun is a fail or success, after this project i'm going to go for my homemade LPEG airsoft. The difficulty for me to make this is that i don't have a welder like Ant
, but I hope i can construct this good. Any opinions on this?