Hello, I'm new from Australia and want to build a cloud type standard assault rifle, preferably portable but we will see how we go...
I need you guys to help me if you will, I have built a couple of spud guns before, a simple ball valve nerf sniper and also an rpg of some sort.
I want this design to shoot aluminium foil balls I create with my jig, here is a simple diagram of the method I have planned, take a look.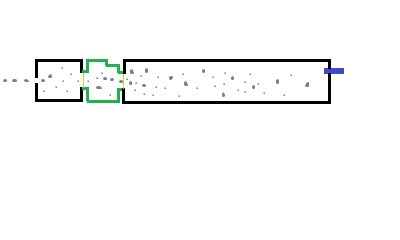 Obviously the finished product will look absolutely nothing like that, but that is the basics of how it is (supposed) to work, I guess the main question of this design is, can the aluminium pellets pass through the solenoid valve???
Also there is no compressor for this design it is fully portable and I am looking for at least seven seconds of shooting which I should be able to manage if I make the barrel hole small enough.
Notes:
This gun is designed to be a flechette weapon, hence the 3mm barrel.
The ammunition area doubles as the air chamber, will this work?
Can the aluminium pellets pass through the solenoid valve?
The green in the diagram represents a solenoid valve, the blue represents a schrader valve, the rest is pvc.
Of course I will use various pvc components to form the shape of an assualt rifle/create a larger air chamber, the purpose of this would be nothing more than household room, perhaps hallway raiding and does not really need to shoot more than say 2,1/2 to 3 metres.
The main purpose of this gun was to be a cool prop, but I thought hey I may as well chuck in 2, valves and drill a hole and viola I now have a cool prop and simple cloud gun.
Thanks in advance!
EDIT:
Ok new idea below.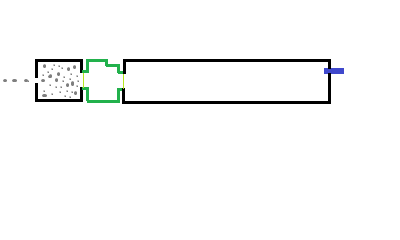 I may even buy some airsoft ammo for this now, no doubt that design would work, as a flechette, now to build a good assault rifle with the pvc connectors etc.
Anyone want to post up some nice configurations, I have seen one somewhere that kind of looks like a tippmann x7.