MAPC-50
(
M
obile
A
ssault
P
otato
C
annon-
50
millimeter)
I orignally built this cannon for a friend of mine for his birthday, but his mom didnt like the idea so I ended up keeping it. Because Im a cheap bastered, I didnt want to use any of my 4" diameter pvc pipe ( had a hell of a time trying to find it to began with). So I decided to use a plastic soda bottle. I had used bottles in several of cannons as the combustion chamber with great success but I wanted this one to be different. Also I knew this was a cheap way to have a clear combution chamber.
To began with, I cut of the end of a 2 liter coke bottle and then used a blow torch to get the bottle to shrink around a 3" end cap. I then screwed it on to the cap with 10 screws and then tightened one of those pipe clamp things around it just to be sure it would'nt break. After that I drilled a hole big enough to fit a 2" female threaded adaptor in and epoxied it in with Plastic Bond (I think its called that) which has a holding strength of 2500 lbs. Next I used a 1" to 2" adaptor with a 2" male threaded adpator on the end and gorilla glued the screw top of the bottle in to the 1" part of the adaptor and then bolted that in to make sure it wouldn't blow off. after that I added a propane meter and then mounted a camera flash igniton circuit in a little black box with a toggle switch with a flip cover so the capacitor will only be charged when I need it so I will be less likely to elctrocute myself. I also added a chamber fan which is turned on or off by the red rocker switch. Finnaly I cut a carry handle (it was original going to be shoulder mounted but that seemed like a bad idea) out of 1/2 inch ply wood, sprayed painted it matt black, and then mounted the trigger switch (mometary pushbutton). I attach a 2' long 2" diameter barrel by a threaded female adaptor.
Now before you guys get all work up about how the thing is going to break or blow up because of the connection between the end cap and bottle, I've tested the cannon over 50 times, 25 of which where remote triggered and never have any sign of weakness from any part of the cannon. I also first pressurized it with compressed air to about 125 psi and only had a slight leak from the hole where the wires entered for the chamber fan. I have concluded that this cannon is completly safe (as safe as something which is containing hot gases and propels a projectile at several hundred feet per second can be lol)
The Cannon
The main components of the cannon.
The left side of the cannon, you can also see how I connected the bottle to the end cap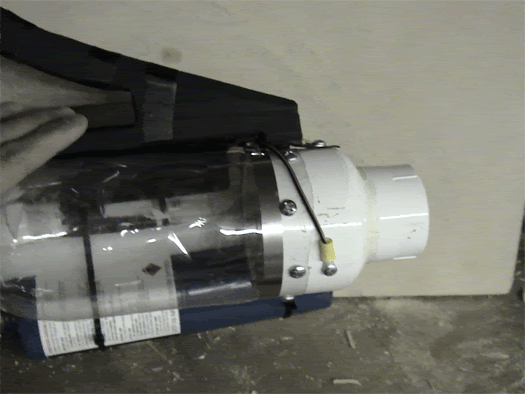 The spark gap
A piece of wood after having a couple chunks blown out of it by golfballs at about 35 feet away.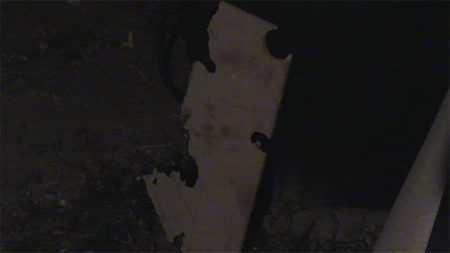 [code][/code]