Here it is, my super time cannon. Made it in 27 minutes with the parts in my garage.
Chamber
163.199ci, 2674ml
Barrel
64'' of 2'' Sch 40barrel, 211.035ci, .8:1 CB ratio
4'' chamber fan
Dual spark ignition from electric sparker
Chamber fan
Looking in the front at the electrodes
Propane meter and tank valve
Were the battery goes for the chamber fan
End cap with the U bolt so it is easyer to get off.
Whole cannon
Were you plug in the electric sparker
The electric sparker
The end of the extension cord were you use a jumper cord and that fires the cannon.
VIDEO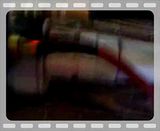 The ammo was a really big potato and the target was some 1/2'' plywood.
Here are some pics of the ply wood-