You're all probably sick of hearing about
Taternator II
improvements. I guess it's like people who have a baby and tell you every stupid thing it does like, "Baby had her first firm poop today!" They can't help it and they probably think it smells like roses.
Anyhow, I've added a 3-way electric fuel solenoid and simple controller which automatically fills the meter then fills the chamber. All you do is work the breech levers to load a spud then push the trigger. Lather, rinse, repeat. No valves to open, no switches to operate. Only works in conventional mode - hybrid mode is too complex to automate. Now the gun is REALLY begging for a linear actuator to open the breech. With a basket of spuds on top, it could then go full-auto! Maybe the world's first full-auto spud gun? That would make it difficult to switch to hybrid mode though.
Rate of fire is about 12 SPM or 5 seconds between shots. It could fire even faster, but I'd need a 3-way valve with bigger orifices to move the fuel a bit faster - takes a sec for the metered fuel to depressurize into the fuel injectors in the chamber which restrict the flow even more.
Here is the sequence of events and actions starting from the moment of firing:
Press trigger:
Operates ignition relay and fires. Purge blower (fresh air) relay latches. Unlatches arming relay which silences the warning beeper and stops the flashing ARMED LED.
Start opening breech levers:
Energizes 3-way fuel solenoid, regulated fuel begins flowing into meter. Purge blower is still running.
Breech reaches full open position:
Unlatches purge blower relay, chamber is fresh now. Latches arming relay. Fuel solenoid is still energized, meter is just about full. Add new spud.
Breech reaches full closed position:
Activates warning beeper and flashes the ARMED LED. Deenergizes 3-way fuel solenoid which allows metered fuel to flow into chamber injectors. Ready to fire.
Here's the controller schematic (click for huge). May contain errors! For the labeled pins on the Purge and Fuel switches, the labeled pin is active only while that condition is true, for example, the Purge Switch's "Breech Fully Open" pin is active only when the breech reaches the fully open stop position, and at all other breech positions the other pin is active.

Edit: Added images below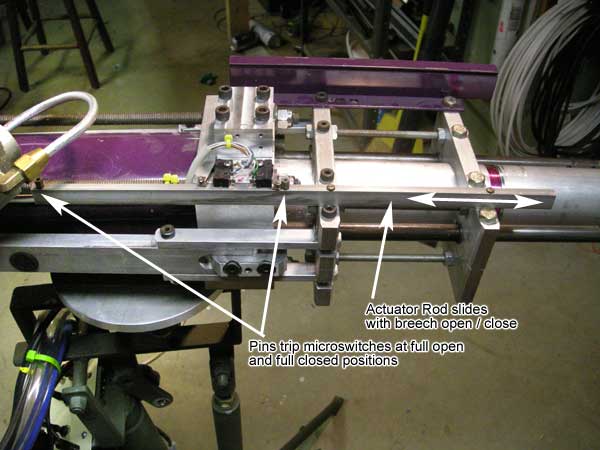 Sorry for the ugliness . . . Looks like a Borg.