I know this may seem to be a wasteful topic but its concerning me.
Also, what i mean by a coupling is a nipple that is threaded but in the center it isnt threaded therefore having 2 seperate threaded parts on one piece. by a nipple i mean that the whole thing is threaded.
I have a propane meter built and with this meter i have a 1/4 inch pipe nipple that goes to the chamber. But in this pipe nipple there is a space where there are no threads. I found this to be useful because i can tighten the pipe nipple in that area without destroying the threads.
EDIT: Well for you, DYI, and for Me, here is simpler, and correct terminology with pictures.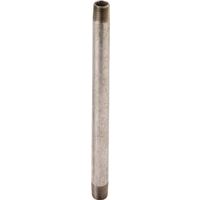 This is a pipe nipple. This is what i have on my propane meter right now. This is the part that connects to the chamber. To tighten this, simply use a wrench and clamp in the middle and turn clockwise.
This is a threaded nipple. It is what i would possibly consider putting on my propane meter so that it connects to the chamber. This gives the chamber and the threaded nipple less stress because it is shorter than a pipe nipple and the meter can be put closer to the chamber compared to a pipe nipple. But how would i tighten this without ruining the threads?