Jack: Good point on the potato spinning itself apart, I will take that into account. I have reconsidered the barrel diameter, and I think I am going to go back to the 1.5" barrel. Its easier to rifle, the slugs will have more mass so they won't be as affected by cross winds, and getting a decent C:B ratio with a 4" chamber came up with a chamber length of around 2 inches and a barrel of 60", which won't work.
Dewey: Good call with that. I probably won't get that one, but something similar would be an excellent idea.
Now that we have barrel and chamber diameters, I need the best C:B ratio for my application. Remember, this is for consistency, not max distance.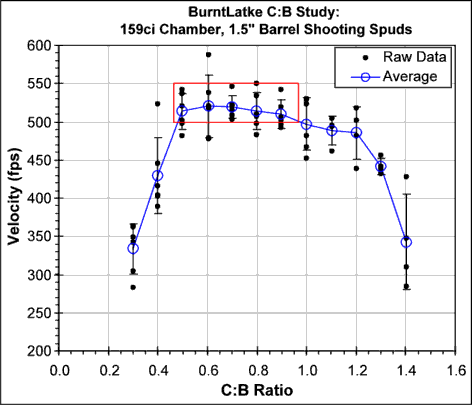 According to this graph, the ideal C:B is around 0.6:1 and 0.8:1. However, the discrepancy in muzzle velocity for the C:B of 1.3:1 is noticeably the smallest (i.e. more consistent). I don't really see a reason for this, as there is no real trend in consistencies (the more efficient C:Bs are generally better, but its fairly hit or miss for the most part), but the data for it is right there. Is this just a coincidence in the experiment, or could that be considered the most consistent C:B ratio?
Thanks as always!