Hey everyone. Last summer I made a horribly disproportional combustion gun that I just used Axe in (got it to fire off unmetered propane once.. what an increase in performance) Here is the one I made: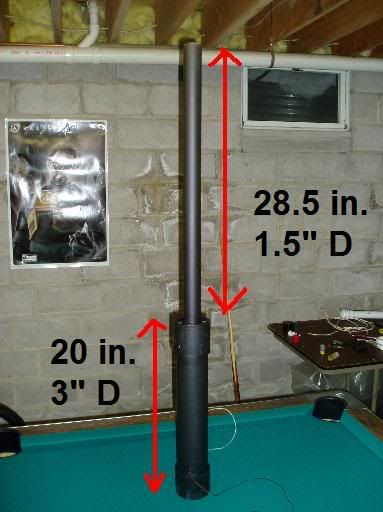 If I did the calculations right, it has a 1:2.562 C/B ratio lol. Well.. I decided that now instead of going to Home Depot and winging it on the calculations, I wanted to make a decent metered cannon but I had a few questions.
1) I read that PVC is acceptable because propane only creates 90psi at most and the correctly rated PVC pipe can handle this. Fact?
2) On a meter, whats the point of the pressure gauge? If you open one valve to let propane in and close it, then open the other to let it in the chamber, why would PSI even matter? I understand that higher pressure would require a shorter meter pipe, but what is the average pressure of a 14oz propane tank so one can find a suitable pipe length for the appropriate pressure and chamber size?
3) What is typically a good chamber and barrel size? I know the volume ratio is like 1.5:1 but in terms of inches and diameter of PVC, what is the norm?
4) Is a straight through design better or is a chamber on the bottom looping up to the barrel good too.
I tried looking for the answers to these but I came up empty handed so hopefully someone can enlighten me. If I remember anything else in question I'll bring it here =) Thanks.