As promised a few days back, this is the basics of the semi-auto combustion concept I have sitting in my mind.
This is the solenoid operated one, the pressure operated one is probably more complex and harder to build than most of you would be interested in - it's a much more elegant design by a couple of orders of magnitude, but equally about the same amount more work to make, and I don't want to have to explain the maths required to design it.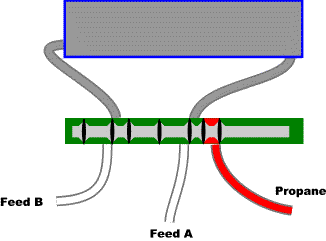 Most of the basics should be obvious, but the less obvious stuff:
- The propane feed
will
need regulation, and moderately precise regulation at that.
- There will need to be an air flow between Feed A & B - whether a vacuum on point B or a pressure feed on point A isn't that important.
- Figure out your own loaders - I suggest something powered off the same solenoid might be apt.
Of course, if anything isn't obvious, ask away. Equally, if you feel like ripping the idea to shreds...
I know it's not perfect, but I'm throwing it out there to inspire others - I'm unlikely to build it myself, for some time at least, if not at all, so no point in wasting it.