Gun Freak, having the barrel at the very back makes it much easier to load...
<div align="center">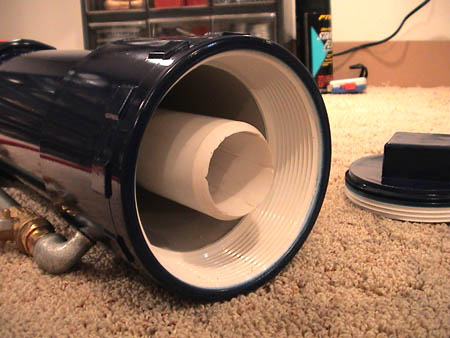 </div>
I don't believe turbulence can be "fixed" with a higher C:B ratio... you'd just be wasting fuel and making your cannon bulkier.
With a coaxial, you have to generally make your chamber wider to allow for enough chamber volume to maintain a decent ratio... so perhaps you should be looking into over/under configurations instead? For instance, if you wanted a 60x2.5" SDR-26 barrel for tennis balls/soda cans, a 4" chamber with the barrel all the way at the back would need to be 42" long, a 6" chamber would only need to be about 12" long, but fittings start to get a little expensive at that size (I usually tell people DWV is okay in a combustion cannon, but at those sizes, I would definitely recommend pressure rated fittings).
Best of luck either way.