Using camera flash cricuits as an igniton source for a combution cannon can be extremely tricky, but if you having a general idea of what your doing it will save you a alot of time and frustration. After many fail attemts with a BBQ ignitor (The things always broke for me). I set out to try and find a cheap reliable ignition source. After three years of fooling around, I figured out that the flash circuit from a disposable camera was an extremly cheap and very effective igniton source and and i could make a almost fall proof ignition setup.
The way the flash works is that a small capacitor discharges into a hv transformer which ionizes the air in the flash to tube making the air resistance almost zero, which then alows the larger capacitor to disharge and create the flash. so basically all you have to do is replace the flash tube with a spark gap, like this one.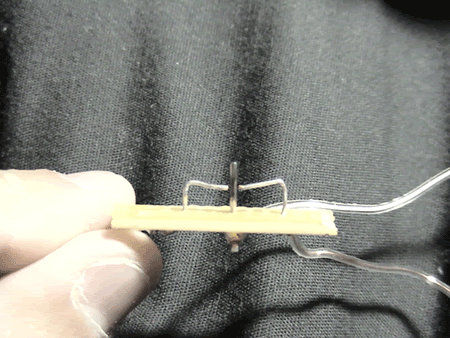 the wire in the middle is connected to HV transformer and the other to bent wires are conneted to the leads of the capacitor. so when you discharge the small capacitor it will go into the HV trans and this will result in the air be ionized beteewn the center wire and the two bent ones which then allows the large capacitor to discharge. the gap between the bent wires and middle wire has to be very small but it will still result in a discharge of the capacitor and ignition.
heres a pick of a camera flash circuit bored i have (I fried it though)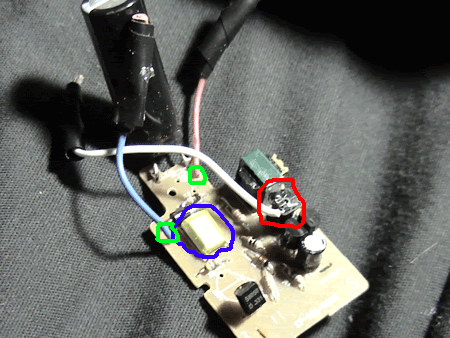 the trans circuled in red is the hv trans which you should connect to the middle wire on the spark gap. the wires circuled in green connect to the main flash capacitor and should be connected to the bent wires separatly.
the cap ciculed in blue is the samll capacitor that discharges into the hv trans. the switch to trigger the smal cap to discharge is on the back of the bored.
But wait, what if your circuit boared is different then the one here? First make sure the camera flash works before dismantling tha camera. then make figure out how the flash works before you pull it out of the camera. Usually, the circuit bored is not ment to last a long time, so the companies use these cheap little switch things which you can replce with almost any decent switch. the down side though is that it usually takes a coouple seconds for the capacitor to charge up, but 95% of the time you'll get ignition the first time. Also, discharge the main capacitor (short the two wires coming out of the capacitor with something medlle, which will probably result in a lot of sparks). when you done cover the back of the circuit boared and electronics with elctrical tape so the thing won't short out and fry it self.
hope this helps
The Indian