Nothing particularly special here- just a hybrid inside a 1/4" tee. It's just practice for the 200x mini- mainly in fueling. However, the 200 will most likely use regulated propane pumped directly into the chamber.
It was tricky to get a positive seal with the burst disk..but I managed. The schrader and spark gap were no issue. The barrel is just a length of aluminum tube, nothing that great.
Mixes will be 10x and above most likely.
I've tested it as a pneumatic and electrical tape (nitto) disks burst at 220-250 psi. Unfortunately, they don't blow out completely but I'm hoping that this will occur under combustion.
Not much else to say really... I need to get a new lighter (last one leaked) and a new syringe (retarded friend tried making a flamethrower with it, fuel stuffed the rubber.. Then I can attempt to get this tiny thing to fire..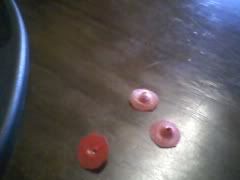 Used burst disks, fail @ 220-250 psi..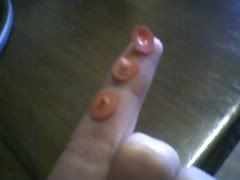 Finger for scale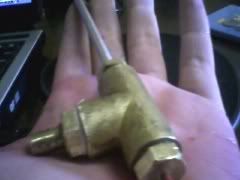 Assembled TeaBrid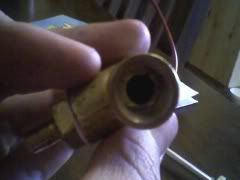 Looking at the burst disk seat..this has an oring put on it, then the barrel with adhesive burst tape is added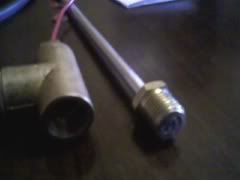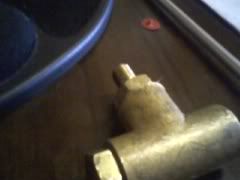 I decided that it would be good that I could keep it as a mini pneumatic if the fueling was too hard..But I'm not keen on the way the gauge needle flies around on bursting. I'll rebuild the mini repeater for this purpose..