==
HackADay Article
==
This will probably look fairly familiar seeing as I was inspired by SpudBlaster15's piston hybrid that he posted the other month. I've been working on this since early September and now it's in working order. I'm sure, like SpudBlaster, I'll change a few things over the coming weeks but for now this is its completed state.
I've fired about six shots out of it since I completed it yesterday. Five shots at a 5x mix and one at a 7x mix. After that, the piston bounce damaged the sealing face causing it to leak and damaged the gasket on the pilot valve part of the piston. I've now increased flow out of the pilot valve to minimize piston bounce. So it should be up and running by Monday or Tuesday and hopefully some videos will follow.
Specifications:
Chamber:
50mm galvanized iron pipe and fittings about 750mm long
Barrel:
2m length of 51.8mm O.D. x 1.5mm thick stainless steel tube
Valve:
1.5" porting bolt and washer piston valve, double o-ringed, rides in 50mm diameter galvanised iron pipe and fittings.
Pilot valve:
Unbalanced spool valve.
Ignition:
wireless 100kv stungun circuit wired up to two sets of electrodes like those seen in Hubb's homemade spark plug.
Metering:
Manometric
Fuel:
MAPP gas
Venting:
So far I have been using the cannon as a pneumatic to vent it (put pressure behind the piston, fill the chamber, vent the pilot volume), but that takes a lot of effort with a track pump so I might try other methods.
The fuel meter disconnects from the cannon when it's ready to fire. There is an air regulator between the ball valve and 0-15PSI gauge to protect the gauge from being over-pressurized on accident, the regulator is locked in at 10PSI. The whole thing weighs around 17kgs. HGDT predicts ~500ms golf balls at a 10x mix if I remember correctly. Testing will come in the next few weeks once everything has been fine-tuned, sorted out and University is finished for the year. Now for pictures...
Edit 14/11/11:
Increased pilot porting to 25mm because piston bounce has been destroying my sealing faces. New barrel support. New remote ignition. New piston sealing face. Added chamber length. New barrel. You will probably notice the 1" galv pipe sticking out of the chamber. I removed the second ignition electrodes and put the pipe in its place to help deal with recoil. Recoil will still be a [female doggy], but hopefully not so bad. The Steyr rifle sling is there to help distribute the weight.
Videos:
[youtube]http://www.youtube.com/watch?v=ZkGriGwCSJU[/youtube]
[youtube]http://www.youtube.com/watch?v=edQx-9gMajk[/youtube]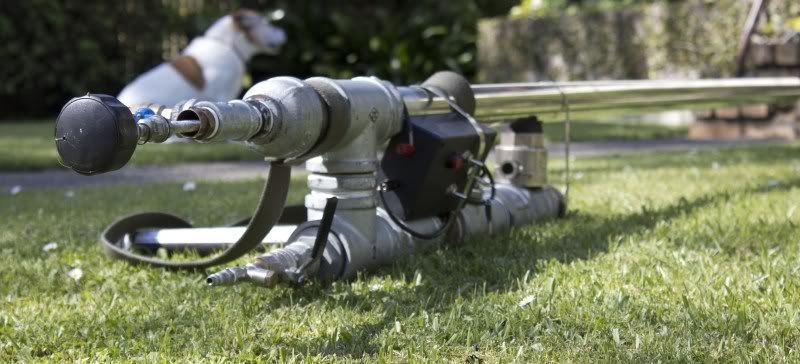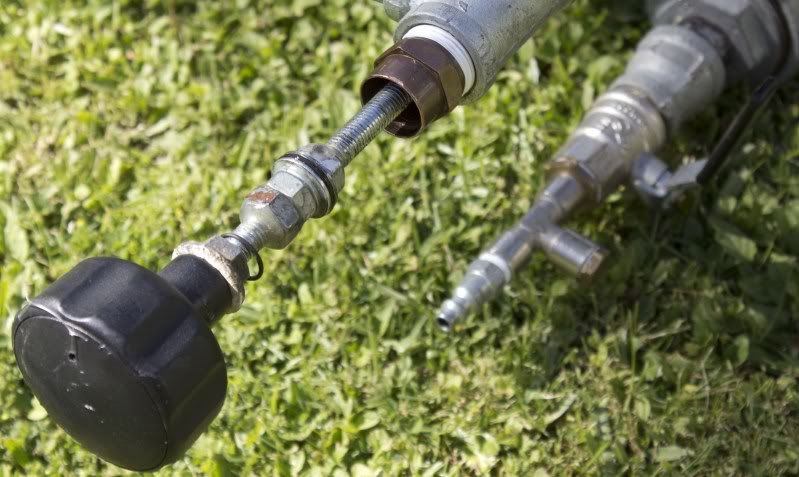 Old photos:
Ignition setup
Meter disconnected
Pilot valve
Barrel porting/seat (nipple epoxied in to a bushing)
Piston sealing against seat
Electrodes in chamber
Electrodes
Piston face
Piston in housing
Barrel porting/seat