Alright... so I made a basic combustion spud gun and it works great. I realize I should have more experience with spud guns than 3 shots with 1 cannon...haha. I've built 2 pneumatic cannons before, not for spud gunning though so I think I know the basics about combustion and pneumatic cannons... yay.
Well onto the hybrids. I've done as much searching as I could but I still have questions.
This is my design: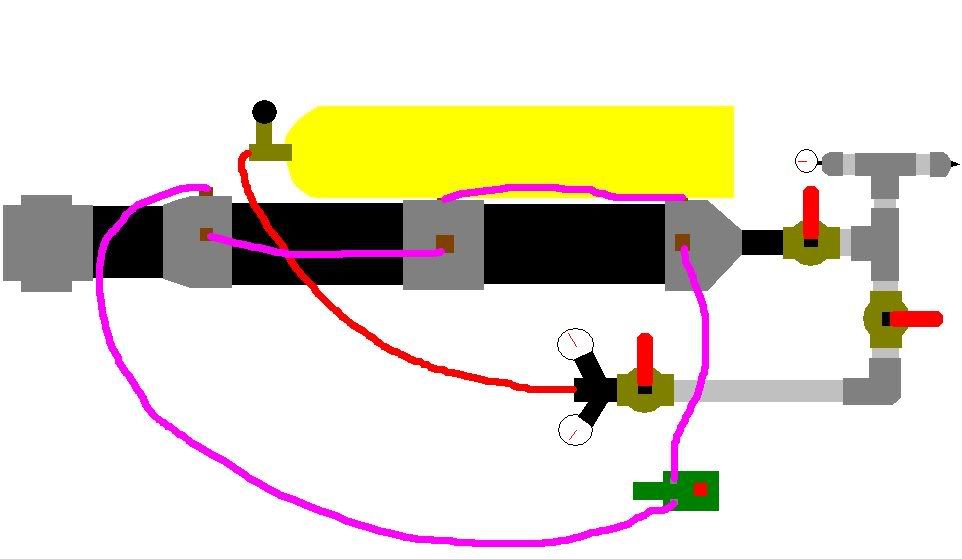 The chamber will be 2" x 12" of galvanized steel. I can only find nipples though so I'm going to have to use a coupler to join them together. If I can't find a coupler, then I'll just use 2" x 6" and make it fire something smaller. If it's safe, I'll make it 2" x 18". After the ball valve behind the chamber, I'll be using SCH 40 PVC since that shouldn't have any combustion going on.
Alright so that's my design, now onto the questions:
1. Will this design effectively fire potatoes? (And go around 1000 feet...)
2. Do PVC male threaded connections fit with galvanized steel female threads?
3. Are the multiple spark gaps necessary? Is it bad to put the sparks there, even though it's over couplers?
4... Propane meters I'm having some trouble with. This is what I've come up with, but I want to make sure before I go and spend $30 on a meter. I'll use my combustion gun as an example because I know it's volume.
The chamber is 50.868 cubic inches. At atmospheric pressure, I should use 2.136456 cubic inches of propane. I will adjust the propane regulator to 2 BAR (easier to work with than PSI)... which means I should adjust the regulator to 1 BAR since there is atmospheric pressure? Then my meter volume should be 1.068288 cubic inches, right? If that's correct, and I were to use 1/2" PVC which has a ID of .602, then I should use slightly less than 1 inch of it? (Numbers are getting too precise to use now...)
Hmm well I think that's it for now... thanks for the help.