KUHFIB- "
K
illjoy's
U
niversal
H
ybrid
F
ueling and
I
gnition
B
ox" AKA: "The Box"
Overview
Well I've been working on this for the past couple weeks now on and off, and was much suprised as to how well it came out.
I got the idea to do this right after DYI finished his Universal Fuel Meter. I liked the use of gauges, but I decided I would spend the extra bucks and go digital, since this would replace all fuel meters and ignition set ups for all my present, uncompleted, and future Hybrid cannons (at the moment there are 2 in various stages of completion, along with FEAR which is being rebuilt).
Now to what really matters:
Specs:
-Housed in a steel tool box. Constructed with 1/16" steel plate and 1/2" particle board.
-Capable of fueling up to 20x propane/air mix.
-300PSI digital pressure gauage with +-1% accuracy and 0.1 PSI resolution.
-50kv ignition system using 2 camera flash capacitors discharged through two ignition coils connected in parallel.
-All componants except compressed air source housed in box.
-4' long 1/4" fueling hose rated for 5000psi.
-All electronically controled.
Pictures
The Box
The Internals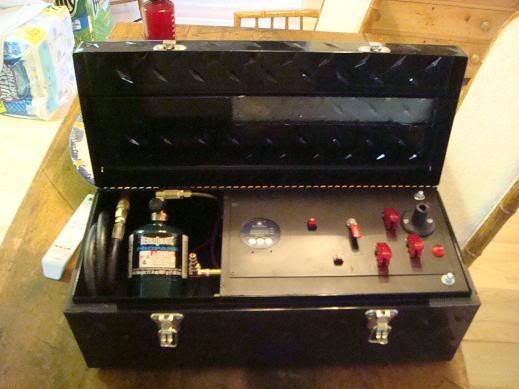 Everything Packed Up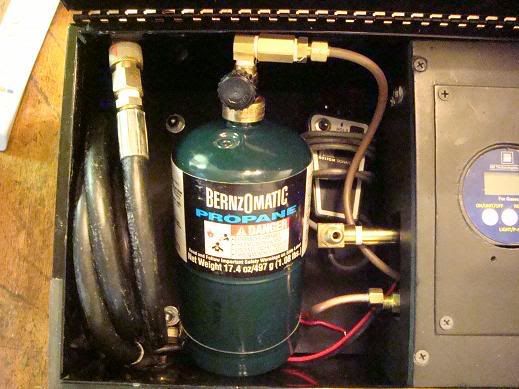 The Control Panel
(With Functions Labeled).
The Key Switch
The Digital Gauge
(With Backlight On)
The Firing Trigger
The Meter Internals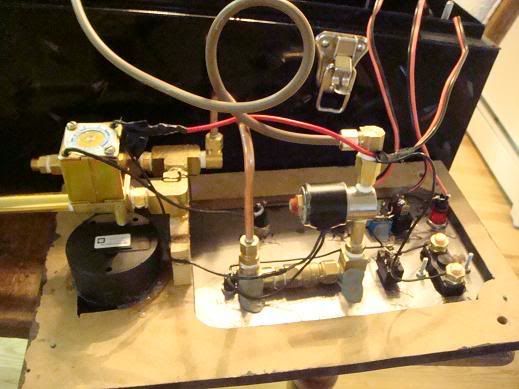 The Ignition Set Up and 12 Volt Power Source
The design is pretty basic and the pictures show almost everything, but if you have any questions about how it works or something just ask.
Notes: All the controls will be labeled once I get a labeler, I will probably get it tommorow when I go get my 200psi air compressor.
Also, I still need to finish adding the wires that connect the ignition system to the cannon.
Oh and here's a sneak peak picture of my 20x hybrid rifle which will put The Box to its full use.