The other day, I went to go pick up some epoxy for my new cannon. Usually, I buy these little tubes of epoxy that have a self-mixer at the end that allows the epoxy to be dispensed like a tube of superglue. this saves time, always dries PERFECTLY, and leaves virtually no mess. however, It costs about 4 bucks for a very small amount of epoxy. This time, I decided to save money, and I picked up some of the epoxy pictured below: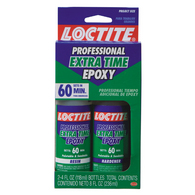 However, This stuff is literally the most annoying thing I have EVER used. I do not recommend this stuff at all, for a few reasons.
1. it says it sets in 60 minutes. Even when mine was mixed with a hunk of wood and a drill in the PERFECT proportions it actually got 'kinda' stiff after about 3 hours.
2. this stuff is REALLY thick. to the point that pouring it is impossible. I had to heat mine with a heat gun to get it to actually flow freely enough to work with.
3. when it finally sets (took me about a day and a half) it is VERY brittle. everything I popped out of my mould ended up coming out in one piece, but filled with internal cracks and fissures that allowed the casting to be pulled apart by hand with extreme ease.
Also, I did some tests to see what happens if it is let set for almost 3 days. Still the same effect.
Basically, When you get professional epoxy, get real professional epoxy.... the Loctite "extra time" stuff is junk.