Well this is my first coax that has lasted for more than one day(made one out of copper and my crappy soldering broke
)
so threw this together last week completely out of spare parts.
and im going to call it my first coax because my actual first blew out as described earlier.
It is very basic nothing new except for the exchangable barrels which is also very basic and i will explain later.
specs
chamber:8in of 3/4in pvc pipe
barrel:8in of 6mm aluminum pipe, and 15in of .177(metal bb size)
Valve:coaxial piston valve
exhaust:heavily modded blowgun(I spent more time modding the blowgun than working on the rest of the gun)
Fill method:scrader valve
and i attached the barrel to the gun by epoxying it to a 1/4in nipple(6mm fits inside it well)and then threding tht into reducers.
The same method is used for the .177in barrel except I reinforced the epoxy with wire mesh because i dont want it to blow out like my last coax did.
I also realize it is messy with the primer so dont comment on that
Pics
the gun
A blurry pick of the barrel epoxyed to th 1/4in nipple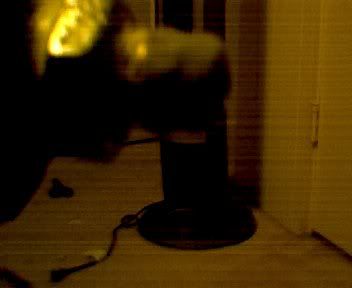 how i am capable of exchangeable barrels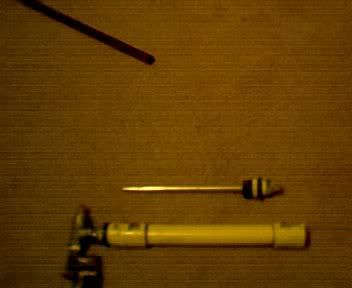 The piston(a 1/2in copper cap with neophrene epoxied to the top and duct tape wrapped around it for a better fit)
My horrible priming job(will paint in a day or two)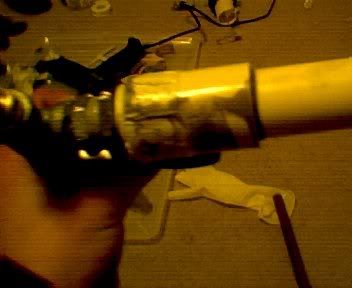 Thats it
Edit: Ive got some damage
All shots are at 160psi which is my maximum operating pressure
first is a nail that happened to fit perfectly in the barrel vs a candle
before
after
next at elitesnipers request, a 0.2 gram airsoft BB at a shook up soda can
Before the shot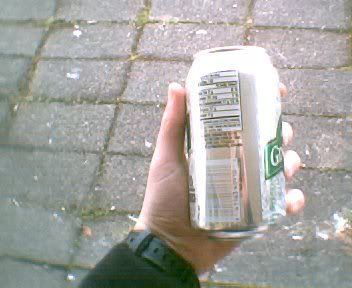 after the shot(notice the small hole in the other side
)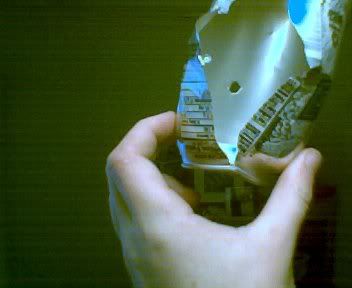 Next shot was a 0.25 gram bb vs a film canster, it made it through both sides in one shot which i was impressed by
the entry in the cap(looks kinda small in this pic)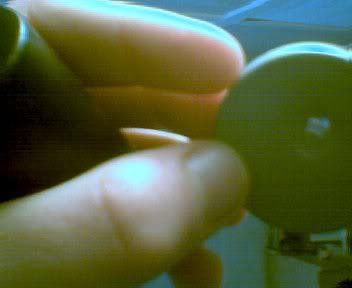 the exit in the other side of the canister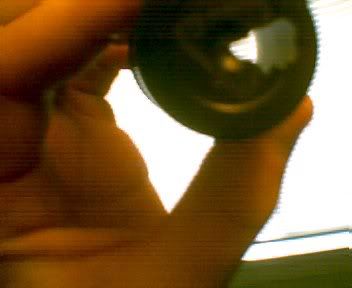 And I upgraded the pilot to a 1/4in ball valve i had lying around. It raised power
a lot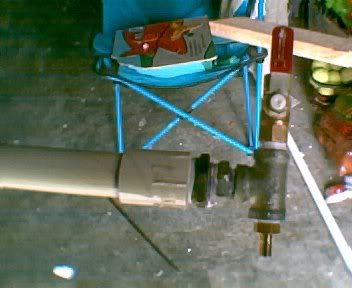 and i just GGDT'ed it and got 760fps with a .12 gram bb at 160psi which i was very surprised by.