After I got the 450V, 4700uF capacitor for use in my ignition system and witnessed its power, I though I could put together a little electrothermal gun to start out on the road to my goal of a high powered plasma launcher, to be built some time in the future.
This launcher hasn't come close to living up to my expectations for it, with a shot-to-shot speed variation of almost 400%. Even the most powerful shot never came close to achieving 2% efficiency, which would have been about 300m/s (as I can only charge the cap to 250J or so at the moment). I'm guessing that the solution to this problem is, as Larda so eloquently put it on MSN: "MORE POWER IGOR! MOHAHAHA!!!!
". The lack of voltage is probably killing efficiency, and the cap is obviously not fully discharged after each shot.
GGDT says that 200psi room temperature air could have achieved the same power, but that's not the point: the point is, there is no compressed air, no conventional fuel, and no valve needed, only electricity and some aluminum foil.
So, to sum it up, in lieu of b*tching and griping about the lack of power, just donate me a few of those 200kJ 20kV pulse caps from General Atomics
I thought the video was a bit too pathetic to include, but here it is, for posterity's sake:
[youtube]http://www.youtube.com/watch?v=KWoUXmvtHEI[/youtube]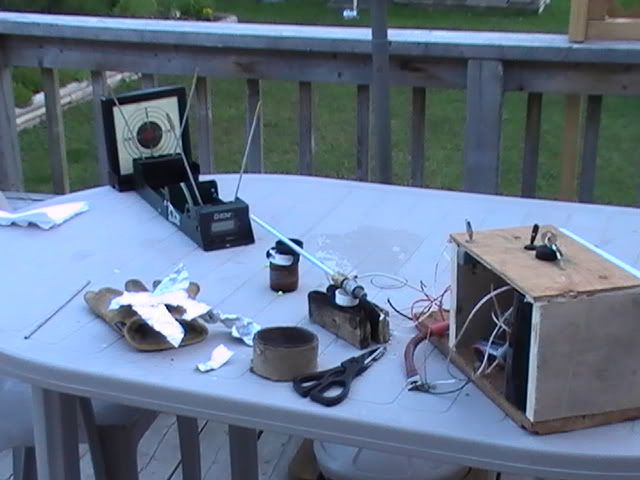 The whole setup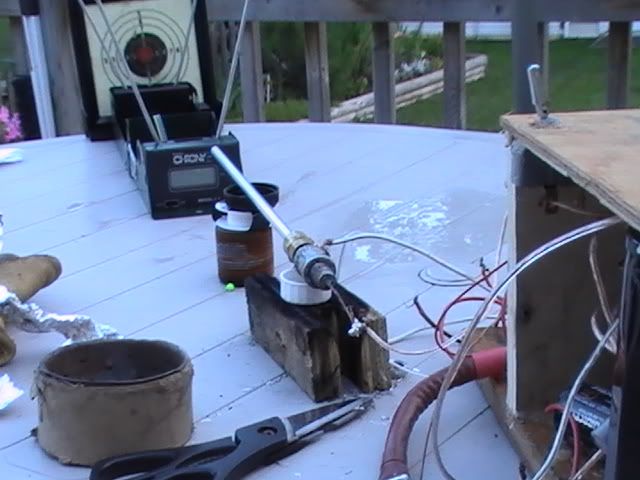 The launcher - it's not anything really complex, just two 1/4" couplings with a close nipple in between that the wire is welded to (it used to just be soldered, but it's
welded
now
)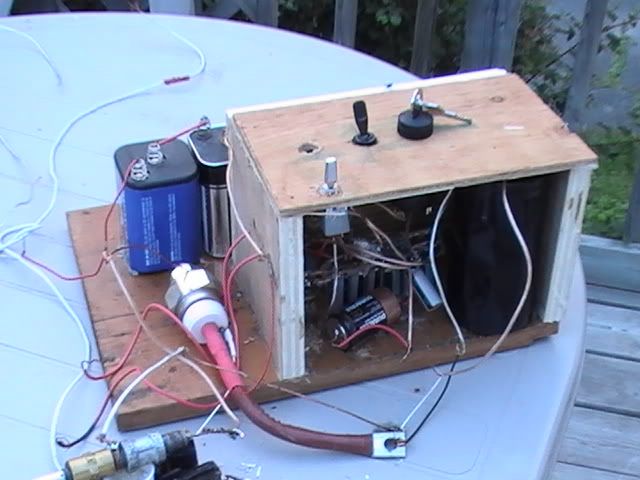 The electronics - once again, nothing very complex. Camera flash circuit and a D cell inside the box for charging (currently takes about 10 minutes to charge), along with the capacitor. On top there's a key switch to turn on power to the circuit, a charging switch, and two others that aren't currently in use (although one of them is going to get wired to the SCR). Outside the box, there's a ridiculously oversized stud type SCR that I got on eBay, rated for a surge of 8.5kA at 800V that does the switching, powered by two 6V lantern batteries wired in series.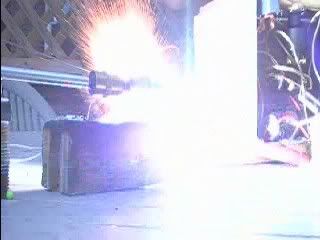 And this is just to illustrate what goes on in the chamber, and my frustration with such low muzzle speeds.