magnum9987 wrote:You do not need large bullets for power. The Barret M82 type weapons only get 2500 feet per second, their around.
Both bullet weight and velocity factor in muzzle energy. They also both factor in the (in some ways) more useful Taylor equation, which gives a reasonable idea of the trauma that will be caused by any given bullet:
Bullet weight in pounds * Bullet velocity in fps * Bullet calibre
At the muzzle, .300 and .338 Lapua Magnum rounds have Taylor numbers of around 20 to 30, depending on the exact variety of ammunition.
.50 BMG, which, even with heavy bullets will still do around 2900 fps has Taylor numbers of 150 to 170.
I know which I'd rather get hit with. Taylor number of 25, or 160 - hmm, I'm going to have to go with the one with only two digits.
What is need is a high density and high velocity.
A high
sectional
density and high velocity will get you high penetrative capacity - most probably over penetration, which is inefficient.
With one of my launchers, I can put a tiny pinhole through a drinks can filled with water with one type of projectile - or I can hit it with a different projectile that doesn't overpenetrate, and literally tear the can in two with hydraulic shock: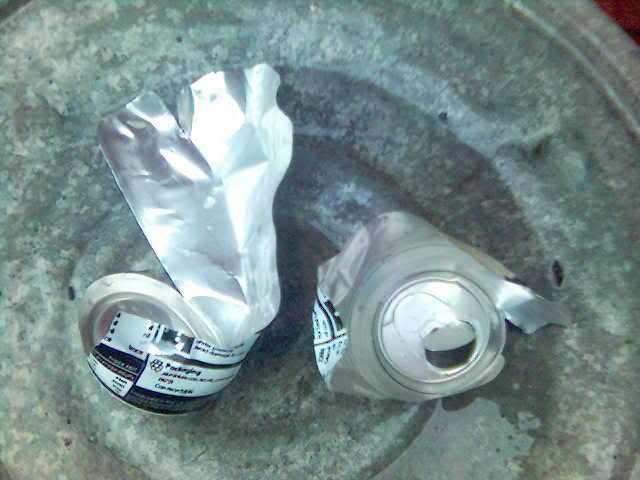 Which can would you consider more damaged? The one with a tiny hole through it, or the one that's been bent out of all proportion and ripped in half?
In the real world, you want a bullet to give up as much of it's energy as possible into the target - which means not over-penetrating.
Each gets reportedly 3500-4000 fps.
If they where made f depleted uranium they would be uber powerful, more so than a .50cal
Um, that's not actually correct - ignoring the fact that your velocity figures are rather generous. You should be looking more in the 2900 to 3500 fps range for Lapua Magnum rounds from a typical rifle.
Anyway, if you used DU, then you'd have a heavier round, which the rifle then wouldn't be able to fire with the same velocity. As a rough guess, if you could find a way to get a rifle to fire a DU bullet instead of a lead one, you'd see a ~20% velocity loss.
The other thing is that you couldn't actually fire a pure DU bullet from a rifle. Rifles use lead for two main reasons - it's density, and the fact it's a reasonably soft metal, which allows it to be fired through rifling. Depleted Uranium is certainly dense, but it's not soft enough to be fired from a rifle.
I'm not denying that Lapua Magnum in either size could be very dangerous, but 50 cal is much nastier.
*****
Anyway, all of this talk about "ultra powerful" rounds ignores some problems.
Longer cartridge cases are not particularly practical in automatic weapons - and the rounds are heavier, meaning you couldn't carry as many.
I'd sooner have something in a shorter case - the largest I'd really consider practical is something like NATO 7.62mm. It might not be quite as powerful, but you could carry lots of rounds, and it should still do the required damage.