So about a week ago I went to the orthodontist and was told I needed to wear rubber bands for at least four weeks. My most recent air rifle project had failed and I was at a loss as to what to do for the next few weeks. Somehow i came up with the idea of making a rubber-band gun. (I guess it had something to do with those two annoying elastic things currently in my mouth). In between eating soft foods such as pudding, applesauce, and pasta, and taking large ammounts of ibuprophen I cam up with a design. The next day i pulled out my jigsaw and began my work. Anyway, after my "five minute" epoxy had dried, which took about 15 hours, and it still wasn't fully dry, I had a somewhat functional rbg (rubber-band-gun) pistol. The trigger was a clothespin with a clotheshanger sear epoxyd to it, the spring to hold the trigger back was a rubber band, well, here it is. The gun could be described in one long word: itreallysucked. It was unreliable for one. Sometimes it would go off without my pulling the trigger, or other times I would pull the trigger and it would not go off at all. Anyway, here it is: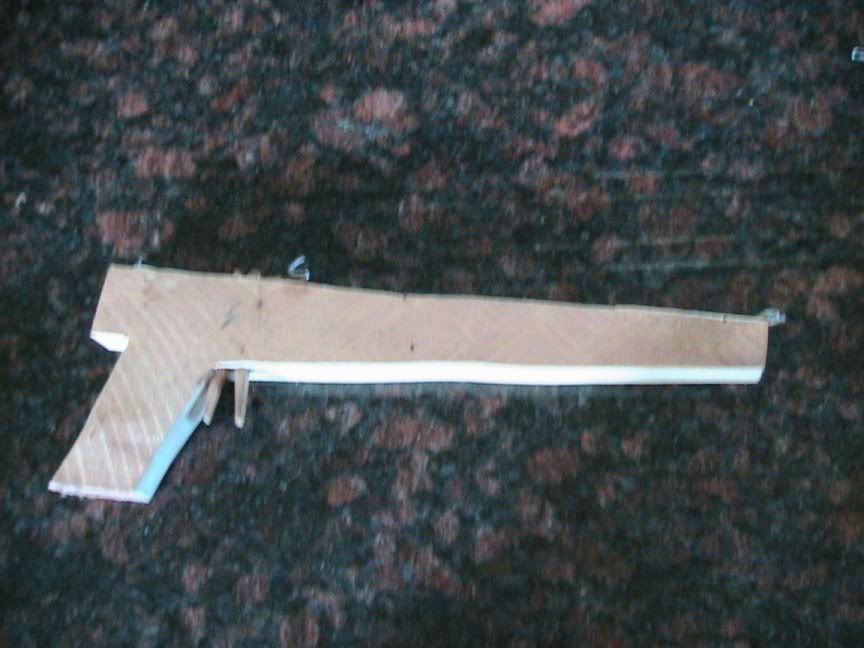 Well, of course i wanted to make another rbg, so I talked to my dad's cousin who is a woodworker and was interested in my gun. He suggested using a disc for the trigger mech. I used his Idea and came up with this:
Some of you may recognize this stock from my .38 air gun, well, it's nbot the same, as a matter of fact it was the practice piece for that stock. It has a groove where I practice routing for the barrel, but it worked. The trigger mech is pretty simple, just a jar lid with a hole in the middle, and a trio of cup clotheshangers for the sear, trigger, and hold-back thingamajig:
Anyway, the trigger is springloaded with a rubber-band, so it it always ready to shoot. The performance is impressive, using three rubber bands tied together as ammo, I can get it to shoot 50 feet straight into the air. with a washer tied to the end of it I can go through thin cardboard and shash cd cases. Anyway, it's pretty impressive and shoots every time. It's also pretty accurate. Anyway, here are more pics.
the trigger mech removed and next to the gun:
The trigger mech inside the gun:
Me holding the gun ready to fire:
And then three pics of me posing with my gun (note the reds cap, the best baseball team in the world)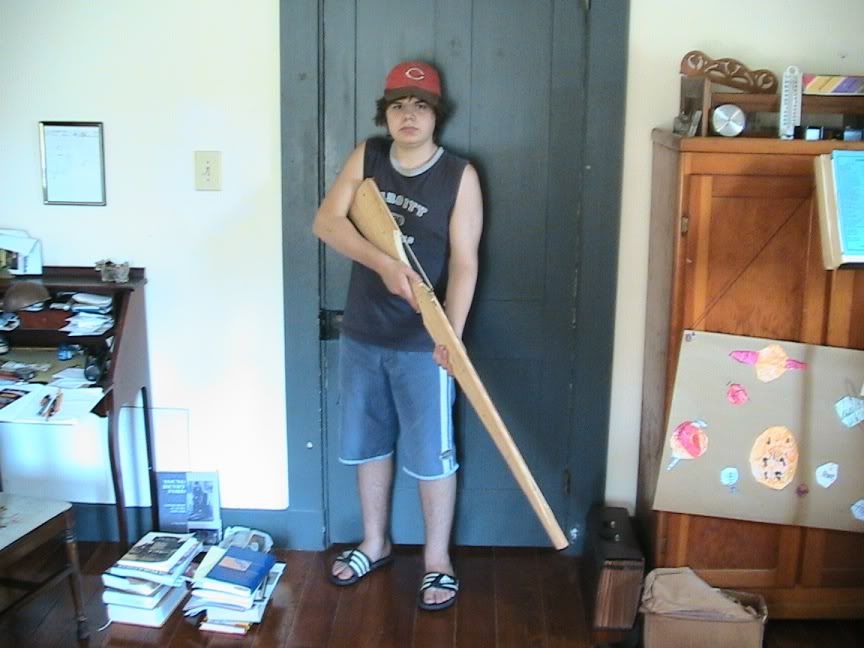 I will have some more pics and some damage shots and maybe a vid up soon. Thanks for reading all of this (if you did) If you didn't, shame on you. I welcome any critique, just keep it constructive.