I'm gonna start with a diagram of my theory then work from there.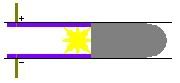 Black - non conductive barrel
Gray - primary projectile
Yellow - plasma
Brown - anode and electrode
Purple - UV laser
One of the primary problems with a conventional railgun is that metal rails are used and these will erode to the point of needing to be replaced after just a few shots. By using a UV laser, it will ionize the air and turn it into a conducting source, which means no more rail replacement.
But this poses a new problem. You see, as the the projectile travels down the rails, the magnetic forces push the rails outward. With metals rails (this is probably a big part of the erosion) it isn't too much of an issue because they are usually braced to withstand it. Air, on the other hand cannot be braced. So, to keep them from flexing, they are placed behind the projectile.
But, again, a new problem arises. Having the conducting rails
end
at the projectile will not propel it at all. It will simply turn the projectile into one bad@$$ magnet (and may blow it up
). We don't want that. So, to try and solve this, something (aluminum?) is placed at the rear of the projectile. By superheating it, it will turn the substance into a plasma, which propels the projectile, working off of a modified magnetoplasmadynamic (MPD) propulsion, which should launch the projectile down the barrel.
If all of this is possible, it should eliminate much of the problems from a conventional railgun, and still be able to achieve the same results.
Now, I'm not electronics expert, but I know some of you on here have a great deal more knowledge and experience than me. I'm almost certain that there are unforseen issues that I just can't put my finger on, and that's where you come in. Thoughts?