Before I start, I'd like to say that I know this is not spudgun related, but I already asked jrrdw if it was ok, and he said yes. So you don't have to tell me I should take it to Theopia (unless you're a mod of course). I figured that some of you might be interested in this because you may be interested in woodworking, etc. Alright. Hello to you all! As some of you may know, I am a musician, and I hope to make a career out of it in the future. I began playing the piano at a very young age, but quit after about 6 months. After a few years, I began playing the violin, and I still play that in multiple music groups. Recently, I have started playing the mandolin, and I bought myself a beautiful Ibanez Solid-Topped A style Mandolin. Here's a picture of my baby:
Anyway, recently I took out my great grandfather's old mandolin. He passed it down to my grandmother, who passed it down to my mother, who passed it down to me. It was in decent shape, so I have decided to refurbish it as best I can. It is a fairly decent quality "beetle-backed" mandolin (because of the rounded back). It has no label inside it with a date, like most instruments have, but after some research, I found out it was probably built in the first 10-15 years of the 20th century, so that makes it approximately 95-110 years old! It was built by H.A. Weymann and Son, a company based in Philadelphia, Pennsylvania, USA. I have read that they were a fairly respected company that specialized in making guitars, mandolins, and other string instruments. Anyway, the instrument is in pretty decent shape, I just need to lower the action, repair a seam that's come open, and fix up the old tuners. So without further ado, here are some pictures:
Here is the mandolin, minus the bridge, nut, tailpiece, and tuners (a friend of mine who has made a few mandolins says that the red part under the soundhole was often made of tortoise shell, but I'm not sure that's what this one's is made of):

Here is the "beetle back" of the mandolin. I think it's beautiful…how bout you?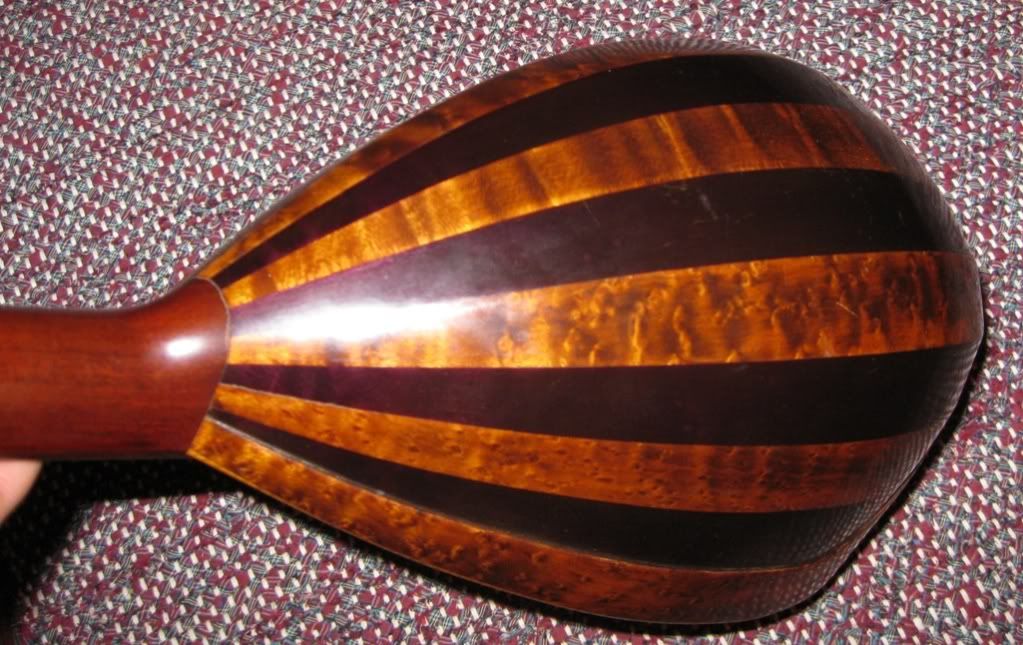 Here is the back of the head, minus the tuners:
Here is the label that is on the back of the head
Here are the bridge and the nut. I need to sand down the bottoms of both to lower the action (the distance the string needs to be pushed down). The nut is the small white piece and the bridge is the bigger piece: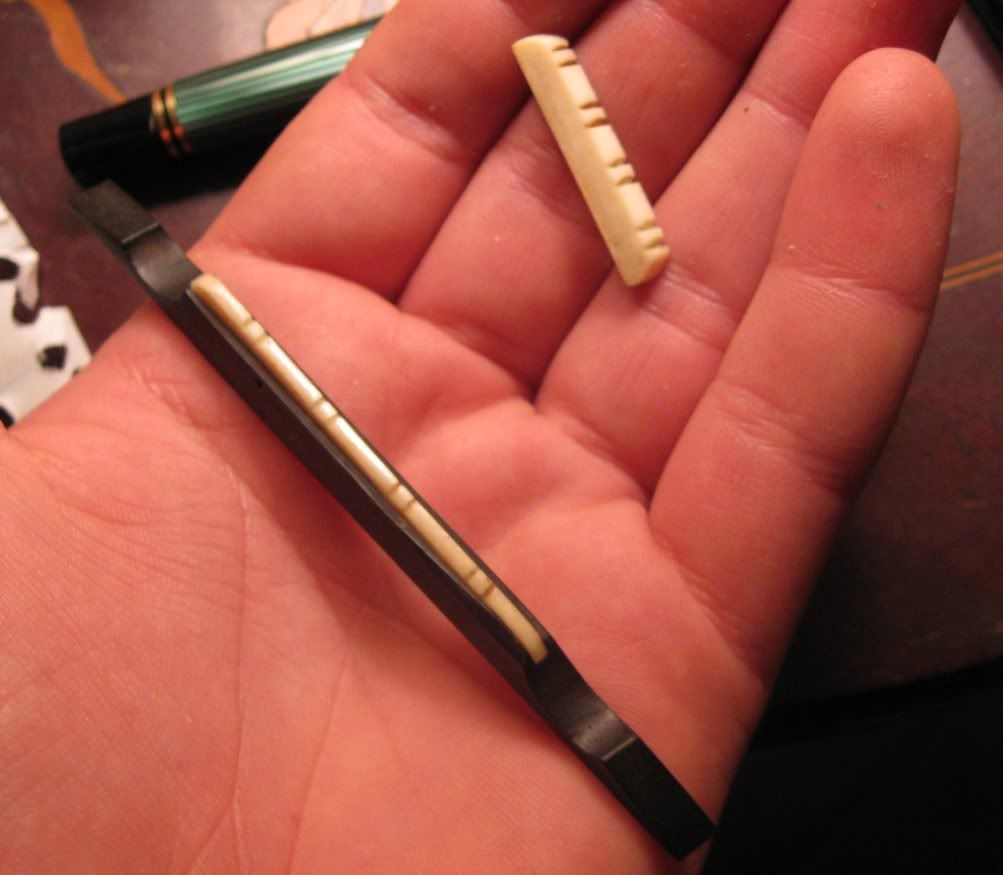 Here is the tailpiece (the part the strings attach to, opposite the tuners) which I have already buffed with my buffing wheel.
Here is a close-up of the soundhole. Note the beautiful, inlaid design along the outside of it. ( I tried to use the macro setting for this but I just couldn't get a clear picture, sorry: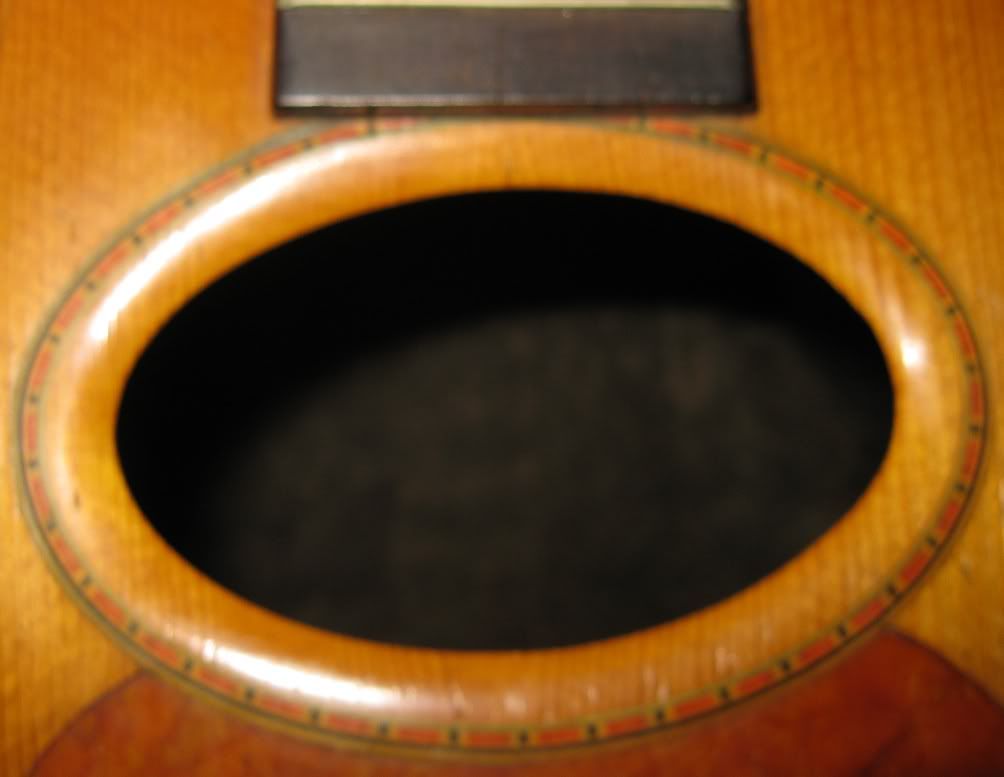 Here are the tuners. A few of these are a bit loose. Any ideas on how to remedy that?
Here is the seam that I need to fill using hide glue: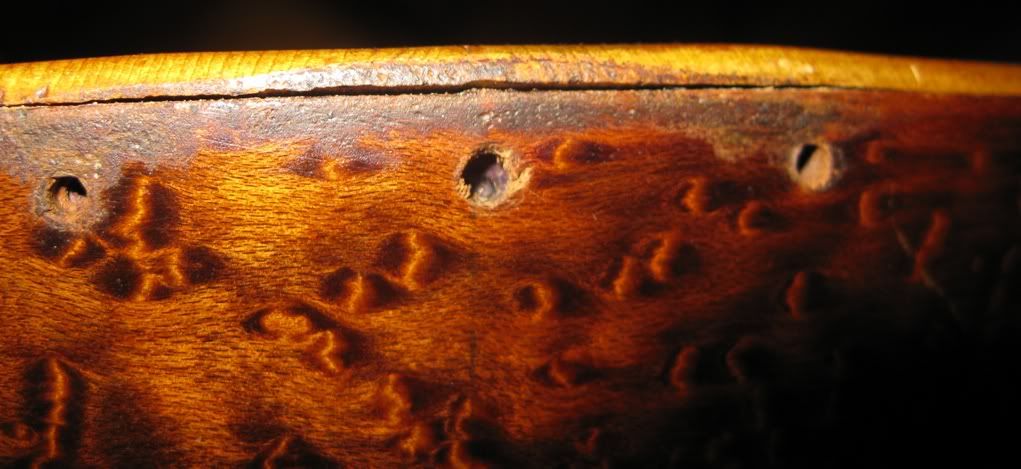 Haha, here is the case, which, as you can see, is a project of its own: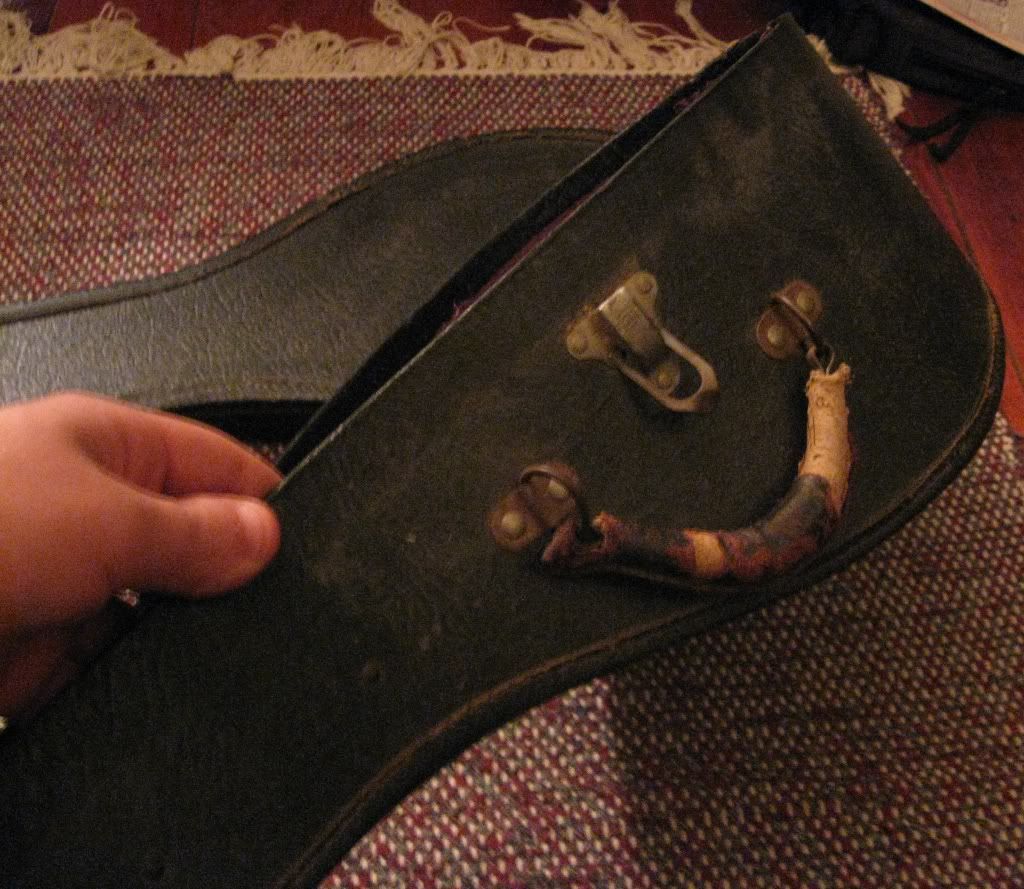 Anyway, that's that for now. I plan to start working on this as soon as possible. I will keep you posted, and maybe I'll even post a video of me playing it when it's completed. Thanks for reading!
Peace,
Maverik94