I just did a
sumobot
for a school computer engineering project. But i want to go farther
the plan is to make a R/C combat robot under 3 pounds for beetle weight fights, and if we have too much weight and have powerful motors, then maybe go for the next weight class.
me and maybe one or two friends will take the electronics out of a cheap R/C toy and make a motor controller with four relays (can't afford r/c radio, receiver, and speed controllers at the moment):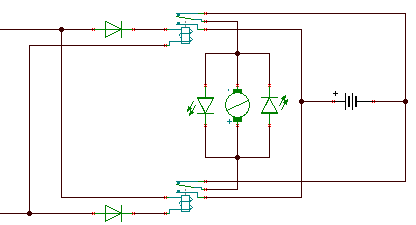 we might get a decent R/C radio and receiver later on
the motors are courtesy of a good friend of mine, these say 26V on them, and the white gearbox is very good and is solidly mounted on the motor, the output shaft has a flat face i need to utilize:
the frame will be just small enough to fit all this stuff in it, and will feature a ramp. made out of angle and flat aluminum we can get from home depot or canadian tires, and some plastic (probably lexan) which i think home depot has some and my shop teacher has tons of. here is the concept (the clear area is plastic, solid grey is aluminum or steel):
does anyone has tips, suggestions, ideas? anything wrong with the frame design? i need to make either good wheels or tank treads, and perhaps gear down from the gear box to the wheels.
EDIT: frame is planed to be 8" by 6" by 1.5"