Well these aren't technically nightvision goggles, but they work just as good and sometimes better then the actual thing.
I started working on these when my friends and I started going up to this abandon school which was supposidly haunted, and we could never get our flashlights to work (creepy huh?), so i went home and pulled out a digital camera i had and started modding it. I originally intended to keep the IR lense which was built into the camera after removing it so i could pop it back in and use the camera as normal, but i broke it and decided i had other cameras that would work just fine so it was no big deal. I then ordered a kit from [url]bgmicro.com[/url] which had 72 930nm(I think) IR LEDs that ran off of 12vdc and I power it with a 12v 7.2hour lead acid battery mounted to a belt I wear. I then mounted this in a project box from Radioshack with a switch and red LED so i would know if it was on (cause humans can't see IR light). I made the head strap out of an old bag strap which I riveted together and the metal swing hinge out of some aluminum which also I riveted together. I also made it so i could unscrew the camera to tinker with it or use it with out the headset.
The entire set up works great and can illumintae extremely well to about 30 feet, more then enough to be able to see in an abandon building.
The goggles down, ain't stylish but its practical.
The goggles up, you can see the goggle peice from a old video camera which was my first attemp at modding for night vision, but i accedently broke it. I can remove and attach the goggle peice by velcro.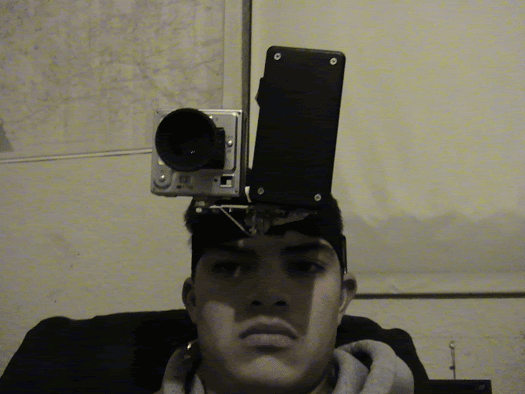 The bolt that i screw the camera on to