Nothin new here, simpleish flamethrower that I built for about $70 bucks in a day. I use it as a flamethrower for burning weeds and entertaining
my slightly intoxicated friends, as well as a supersoaker for cleaning my car and house windows.
The two tanks are 4" inch diameter pvc, which are 2 feet long. This gives me a theoretical fuel capacity of 2.6 gallons, though i tend to only use one gallon of fuel at a time, generaly Denatured alcohol cause I can get a real good price on it and it works great.
Its meant to have a regulated co2 setup, but i have been lacking in funds since my new hybrid and haven't bought the stuff, so i just compress the fuel with air and use a schrader valve to fill the tanks with air (ain't real safe but it works). Sorry i don't have any pics of it in action, but the new neighbors have been "frowning" on my activities recently, and it doesn't help that i have a cop living two doors down from my house.
The tanks, connected together with 1/2 inch copper pipe.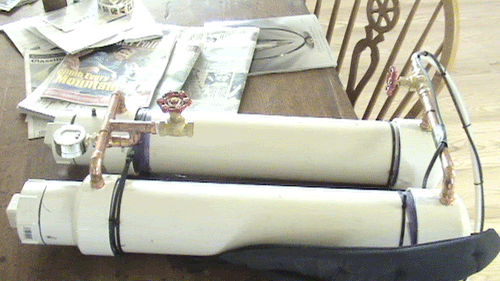 The nozzle, theres also an adjustable flame valve mounted on it. (i also added a checkvalve for safety, though im not sure it will really help.)
The pilot flame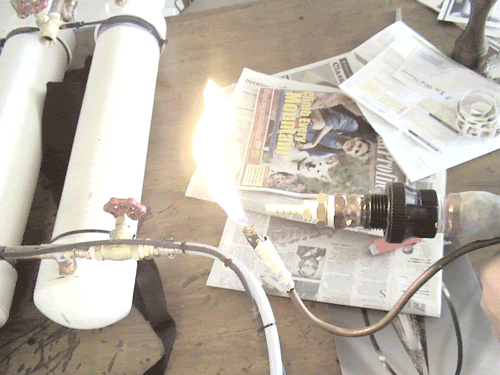 Me with it strapped to my back, i used a shoulder strap from a golf bag. This thing weighs about 35 pounds when filled to capacity.