I generally use hydrogen and oxygen and oxygen and acetylene, but because of the mortar's size the golf ball doesn't go very far (maybe 75 to 100 yards or so, but i haven't really done any range test). I do however use BP and BP/FP mix occasionally.
Well a couple weeks ago i was bored and out of cash, so i went looking around for parts to make a cannon with. I found an 8" long peice of sch 80 2" steel pipe left over from fear, so i decided to make a mini mortar.
It basically consists of a 3/4" thick steel plate welded to the 2" steel pipe.
After initial testing with black powder (the intended propellent) i was not getting the results i wanted (too much BP and it was to fine and the projectile wasn't tight fitting as i found out later). So i poured 3 grams of flash powder into a foil packet, put it in the cannon, added a fuse and poured in a little black powder and pushed in a wadded golf ball. When it fired, i was could seriosly "feel" the bang (theres a word for it but i can't rememeber) and my ears were ringing from the blast (i was 20 feet back partially behind my blast barrier). I ran over thinking the pipe had burst, but found that it was completly fine, and the golfball had gone through the 2"x6" i was firing at.
Heres the video.
http://s122.photobucket.com/albums/o266/uckilljoy/?action=view&current=MOV00157.flv
I added some finishing touchs, including a folding bipod stand and a mechanical firing mechanism which is triggered by a pull string and uses modifyied .22 blanks (i use a fuse for the FP/BP charge to be far away, and the firing mechanism for anything else like oxy hydrogen/acetylene or regular BP). The FP/BP charges are now restricted to 1gram of FP and a little BP.
some pics
Folded for storage/transport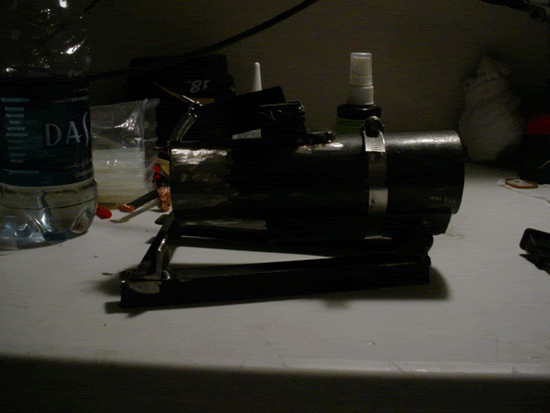 Firing mechanism cocked
as a side note,
Before anyone gets worked up, this is not against forum rules as they prohibit the firing of solid propellents specifically from a spud gun, and seeing as this mortar also uses oxy acetylene and oxy hydrogen, i don't really see how it could be against the forum rules (and need be i'll remove the part about the use with BP).[/url]