My heated discussions about grammar? Really? Well I guess I'll just point out that a certain immature poster here has been calling me names for the last few pages. Maybe I should report all his posts.... nah, I'm above that.
Ok for the record what I said about foreign cars was in a sarcastic tone, I am a fan of Europeon cars however I do not like Asian cars for the simple reason that they are killing the American car market. For that I do not like them, but I admit that they are well made and last a long time. Nevertheless, I drive a good ole American made Chevy Camaro, made in 1995 and has roughly 60 grand miles on it. It runs amazing and can most likely beat any import car stock. So theres my two cents on the argument. Personally I think that the driver makes the car and if the driver sucks well then the car really cant help.
1. There's a reason they're killing American car companies: THEY ARE BETTER. I am all for the domestics returning to the top of the heap, but unfortunately that is NOT going to happen unless something drastic happens to the auto unions. In general, honda pays less per hour to run their factories by a pretty significant margin than Ford. Why? Honda doesn't allow auto unions, and somehow, someway, they keep their employees happy. Ford,GM, and Chrysler, on the other hand, were happy to screw over their employees, which made auto unions necessary, and the unions have now gone too far, wanting TOO MANY benifits, pension plans, retirement, etc. Now, the domestic manufacturers just CANNOT compete with other companies, because they're paying out the ass for labor. There is only ONE way to change this, and it is NOT buy purchasing american made vehicles. It's by letting them go down the crapper. Once things are all the way in the crapper, that is the ONLY time massive change is possible. GM is 'starting' to turn around for the better, but they still have a LONG way to go before they're at the level of a lot of imports. Cadillac is the only domestic brand that actually bothers with really nice interiors, the rest of GM's lineup was plastic garbage.
2. Sixty thousand miles is not very impressive. At all. In fact, that's really really low mileage for a 1995 car. Keep the miles off it, and it'll be a collector car eventually.
3. Unless your car is a Z28 SS, it's really not all that fast. A lot of imports will smoke it in a straight line, and around corners, all while getting better MPG and having a higher resale value.
4. If the 'driver makes the car', as you say, how do you explain the 3x higher deathrate in trucks/suvs? Are truck/suv drivers generally retards?
I like European cars also, but ah! Thats it. Import cars, in general, are BORING. Like, in appearance and speed. You have only given an example of a car with considerable speed.
There are many japanese cars that are very fast. In terms of older models, Supras, RX7s, SVXs (like mine) 3000GTs, Skylines, 300zxs, NSXs, Integras, Eclipses, Sentra SE-Rs, TSI Conquests, etc. Modern versions: 350Z, STi, EVO, Eclipses, Sentra SERs, G35s, Mazdaspeed Miatas, 6s, and 3s, RX8s, etc. There are many, MANY japanese cars that can do the quarter mile in under 15 seconds (some much more), and are pretty affordable. I don't find any of these boring looking: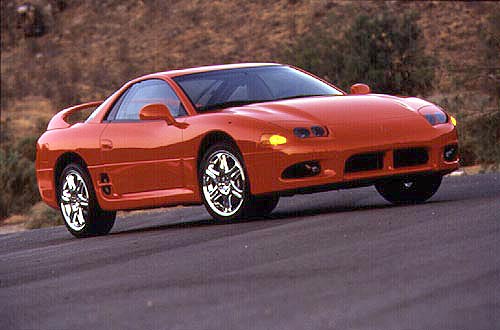 Do you?
The toyata corrolla for example, very slow and ugly and boring.
So is the Chevy Cavalier, the Dodge Neon(2000+ anyway, 95-99s were pretty fast), and the Ford Focus. You are picking the smallest, lamest car from the most boring japanese company. I personally hate toyota. All their designs are boring to me, with the exception of a few older celicas and supras, but right now, nothing they produce is remotely interesting to me.
Generally, I think that more japanese cars are on the road than 80's american cars is because of the tuner mentality.
Or it's because they're more reliable. Did you ever have a 1980s domestic? They were all pretty much crap.
and their sudden popularity and the low cost of an 80's or 90's honda or whatever is what has driven them to get them because they are "cool". Personally, I don't think they are cool unless they have gotten a body kit, and look totally awesome. And, that they aren't a ricer.
News for you: Bodykits are rice. They increase drag, and increase weight. Secondly, older imports are MORE EXPENSIVE than older domestics, so your argument doesn't hold water.
EDIT: Oops, that was a little oddly worded. A clearer version. An older honda was more affordable, to they grabbed that instead of a new one, and grabbed it because it was cooler than an 80's american econobox.
Indeed. And 80s american cars were pretty awful.[/img]