I call it PBB (Paintball Bouncing Betty).
I thought of how to make this last night and made it out of availible parts today after work. It is a prototype simply because its heavy, a little big for practical use, needs paint, and needs the mounts (electrical tape) cleaned up. I need to wait about 18 more hours before I charge the chamber.
It is a trip mine, a trip wire is connected to the light switch, the side mounted toggle switch is the arm/disarm. Inside the box, powering the sprinkler valve is 2 9-Volt batteries in series. I am expecting a 10' minimum vertical launch with a paintball grenade. About a 6' line is connects the mine to the grenades release washer. When the grenade reaches the proper altitude, the line pulls the washer off detonating the paintball grenade at head level giving a large kill radius. To provide a good air seal, I'll be using flour wrapped in paper towels. The flour will act as a visual effect signaling mine detonation.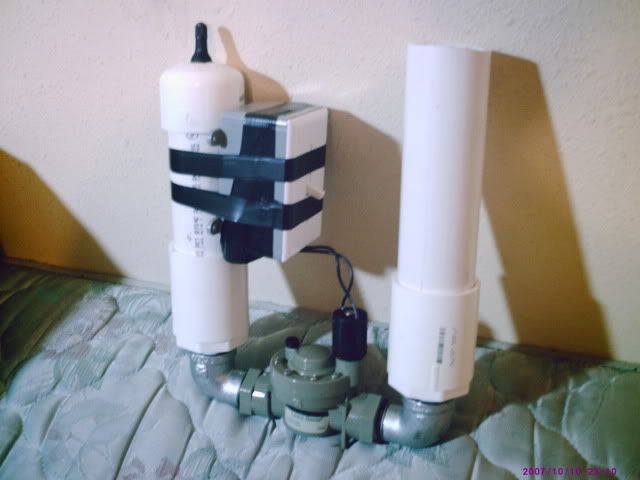 This is my first cannon/launcher/mine that operates on low pressure (100PSI) and this is also the fist time I have used a sprinkler valve.