Well I decided to try my hand at a piston valve again. As I usually do, I wanted a challenge, so I wanted to see the shortest time in which I could build it, as well as using no glue or epoxy to seal anything, just good old pvc cement.
I took roughly 2 hours to build it, but I unfortunantly screwed up the hole for the fill valve and had to use epoxy to seal in the hex nipple.
PVR-31mm
P
iston
V
alve
R
ifle-31 mm bore.
AKA: "The 2-hour cannon"
(Because it took two hours to build).
Specs:
40" long 2" sch 40 PVC diameter chamber
39" long 1 1/4" sch 40 PVC barrel
Piston valve with a 1 1/4" opening
Accessed through a 1"-2" threaded bushing with O-ring
1" sprinkler valve as pilot valve
3/8" ball valve as trigger for sprinkler valve
125psi+ operating pressure
The Finished Product
Firing Position
Pilot Set Up and Stock
Ball Valve Trigger
The Piston Guts
Bumber is just high density packing foam, and piston is a 1 1/2" hex plug cut smooth and wrapped in duct tape.
The Plug
Was a 2"-1" threaded bushing which I threaded onto a 1" threaded plug attached to my drill press. I cut of some of the bottom to shorten it using a saw, and then used a razor blade and careful hands to cut the o-ring groove while it spun on the drill press, and sand paper to smooth everything (got the idea and modified it from Unisonmind here
http://www.spudfiles.com/forums/the-start-to-the-new-gb-cannon-t10049.html
)
The black wire is to prevent the foam bumper from being sucked into the sprinkler valve.
The entire thing is held intot he 2" tee with 5 1/4" stainless steel screws.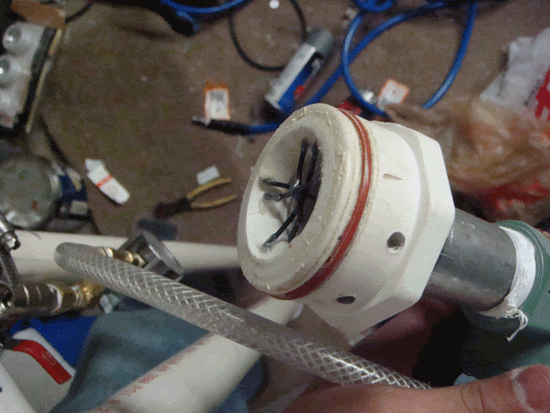 The Damage
The Video
[youtube]http://youtube.com/watch?v=WwJ_IQvGrcU[/youtube]
Shot Up Cans
. Bad aim resulted in side hits instead of dead center ones.
Dr. Pepper Bottle
2 holes made by bearing. Bottom of bottle blew out from impact force.
Dents in Railroad Tie Back Stop and hole in 3/4" plywood.