The Gepárd SSAMR (Single shot anti materiel rifle) burst disk
The SSAMR has a large bore of 15mm classifying it as a destructive device in most countries, the 7mm APDS round is illegal to use against human/living targets, so it is strictly a anti materiel rifle
(The spudfiles treaty
http://www.spudfiles.com/forums/rules.html
)
It is currently in the testing stage, but reports show the new round is able to penetrate 10cm+ of a phonebook at 5m and still result in damage behind the target.
Accuracy as of yet is fair (A 2" group at 15m [With electrical caps]). Tests at longer ranges have yet to be tried.
The main valve is a burst disk (Clear tape) triggered by a ball valve.
There is a .5 to a 2 second delay between actuation of the ball valve and the burst disk triggering.
Remember this is the first "Rifle" ever manufactured by HH///
Updates soon to come as soon as I can get more batteries. (Damage pics, accuracy tests and newly developed ammo.)
Stats:
- Material: Copper barrel/chamber with aluminum chassis
- Valve: Ball valve/Burst disk
- Operating Pressure: 10- 125psi
- Loading: Muzzle/Breech
- Barrel I-D: 15mm
- Barrel Length: 980mm
- Chamber I-D: ¾"
- Operating pressure: 1-300psi (Normal shooting pressure with compressor: 125psi)
Aesthetics: Removable/Adjustable monopod (not shown), Removable/Adjustable stock,
SURPRESSOR!!!
That doesent work, lol.
Cartridge: 15 mm Special APDS (Armor piercing discarding sabot)
Operation: Single shot, manual loading (Like 95% of all the guns here)
Weight: IDK
Length: 1600mm
Barrel: 980mm
Rifling: smoothbore
Sight: 2X fixed power finder scope with crosshairs
Muzzle velocity: @100psi 400fps with devastator round (AA battery) 800fps with AP round and 1000fps with .25g swarm round (Airsoft 6mm BB)
Max chamber pressure: Ball valve is rated to 600psi, Type M copper.
Manufacturer: HH/// (Hunter heaven///)
Status: Testing
Muzzle view.
Scope and trigger valve.
Breech open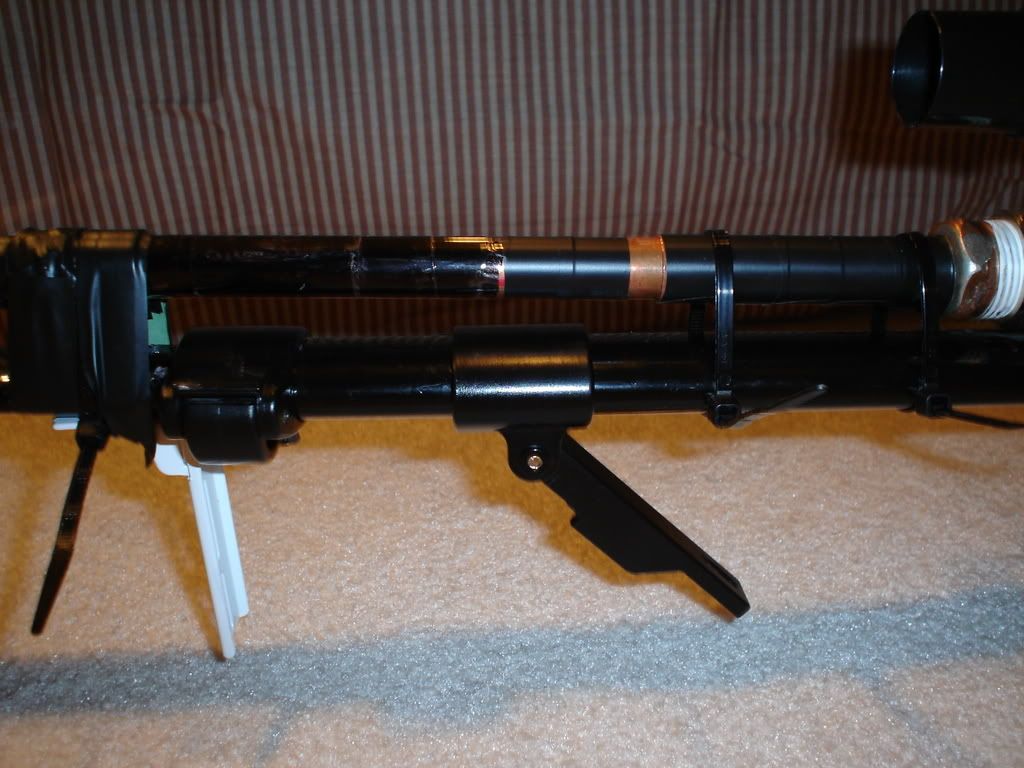 Breech closed
From top: "Ap" round, variation of "pimpin ammo", Electrical cap, AA battery, golf tee, screw darts, 10mm "airsoft" bb's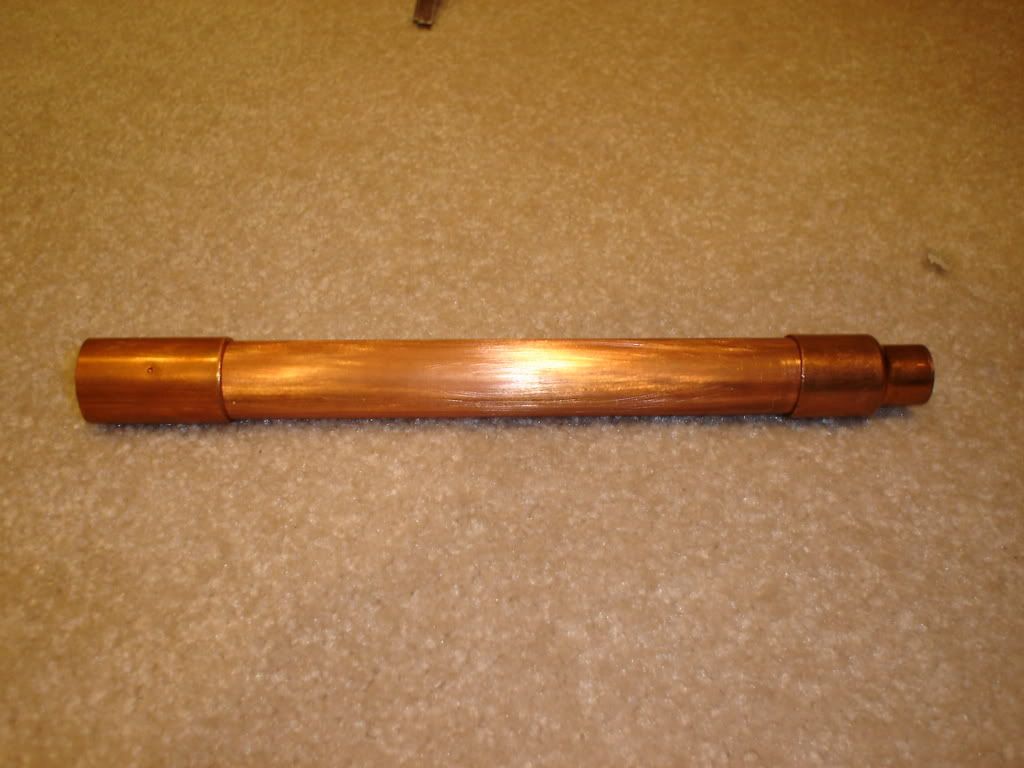 Surpressor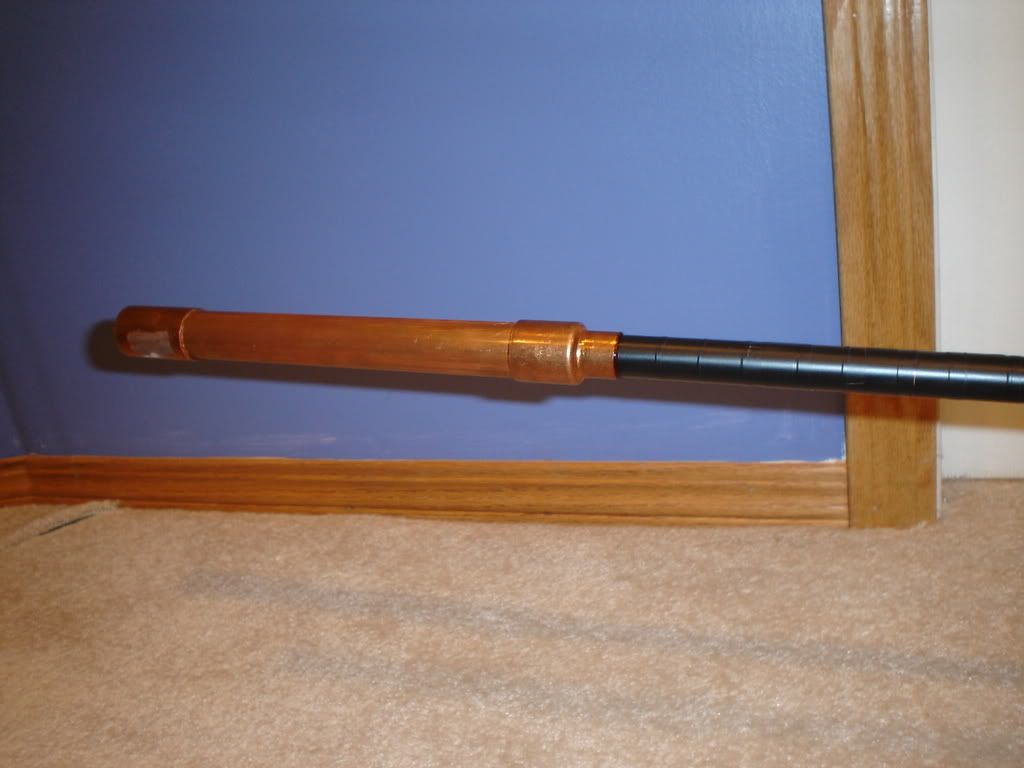 Surpressor
attached
Edit:
only 5 spud bux
Edit edit:
And in the words of some guy.
"And yes I am calling it a rifle... though it does not have a rifled barrel. DEAL WITH IT."
Edit edit edit: I have taken the massive preview out until i can resize it
Edit: Teh whole gun.
UPDATE Jan 17 2008
DAMAGE Pics!!!!!!!!!!!!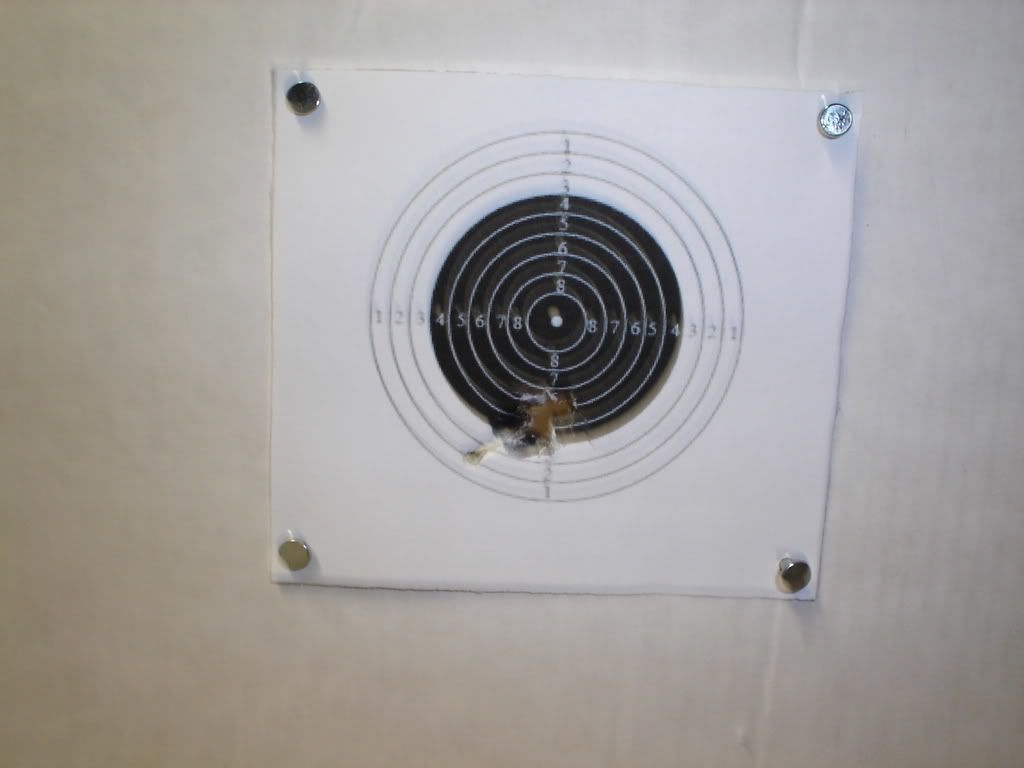 15m completely through the target. Scope was low. 10m air rifle target, 10cm wide. 75psi
After penetrating the target, 1 foot behind it is a 1 cm thick wood board. The plastic jacket is stripped off as well as the penetrator cap, the steel core then continues through the board like butter.
Exit hole
Hits the file cabinet
Burst disk that was used
The penetrator core is still usable.