Well, here she is:
The whole gun. I had to stand on a chair to fit the whole thing in!
The burst disk housing.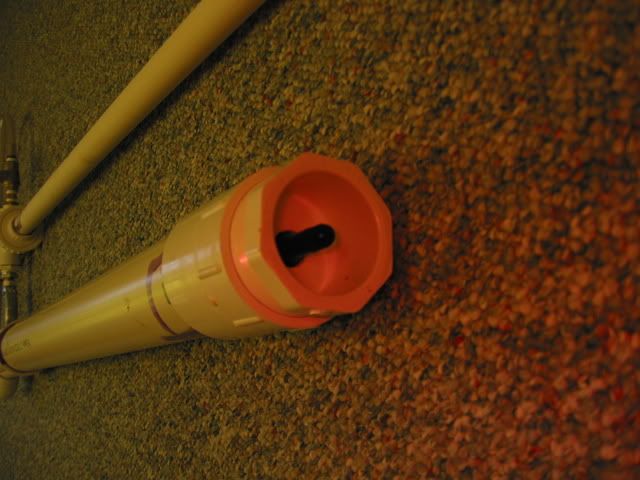 My personal favorite part, the protected schrader valve! (I blocked the flash with my finger, so only the red LED lit up the picture. There's no satanic rituals in my house!)
The only things I plan on changing are buying hose clamps for the hose, and building a barrel support.
Specs:
Chamber: 2" SCH 40 PVC 2'
Barrel: 3/4" SCH 40 PVC 6'
Other parts: Rubber schrader valve, 2 unions, 1/4 " hose, 1/4 " ball valve, and a blowgun.
Burst disks: Aluminum foil.
Operating pressure: 100 psi.
GGDT muzzle velocity: 656 fps.
Ammo: Glue sticks. Certain brands fit beautifully! They fit so well, that they can't be pulled down the barrel by gravity, but the slightest touch will move them! This makes for no blow-by, and virtually no friction! Best ammo I've ever found!
Loudness: LOUD! I had my MP3 player going full blast, and I could still clearly hear the burst at 35 psi! My parents only let me test it when they're gone!
Comments are welcome!