It is not that huge and doesnt stand any chance in power against the SCTBDC but its power is quite awsome for its size(its sort of like a mini SCTBDC)
I name it the K.A.M.G(Kick A$$ Metal Gun)
It is very impressive to watch fire the recoil blows it of its stand and the blast makes plywood fly away.I have held this while fireing and the recoil is amazing.I have only pressurized it up to 160psi because it is so loud.
I cant use it outside of my garage because of the noise it deafens me in the enclosed garage.
My dad is afraid of it and wont let me use it when my brothers are around because hes afraid they will get hurt by it somehow.
This is the product of some upgrades to this gun
http://www.spudfiles.com/forums/200psi- ... 12918.html
I will put a pressure gauge on it so I can pressurise it with dry ice to
300-400psi
I will get a 10ft 1in barrel and a 10ft 1.25in barrel for it.
I realese the presure with a burst disk which burst a second or two after I open the ball valve.
I have gotten it through 3 pieces of plywood before stopping with a CO2 cartrige.I will try some heavyer ammo and see how many peices of plywood I can get through with that.
And it would be really helpful if someone could GGDT this for me with 400psi and a 10ft long 1in barrel firing a co2cartrige.
The specs
Chamber:12in of 1.5in steel pipe and 24in of 1in steel pipe 45.57ci
Barrel:4ft 1insch40 pvc and 10ft 3/4in thinwall pvc rated to 200 psi
(would it be safe to use the thinwall barrel at 400psi)
Valve:Ball valve actuated burst disk
Fill setup:Shrader valve with in ball valve to close when I use it above 200psi.
Pressure used:100-200psi currently but hope to soon use 300-500psi
Enough talk heres some pics
Ill add some damage pics and maybe a video because pictures dont do the justice of how powerful this thing is.
The gun without the chamber extention on next to my bike pump with the 4ft 1in barrel on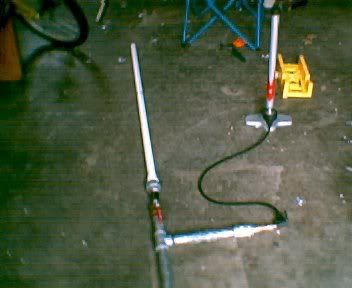 The chamber extention and, my feet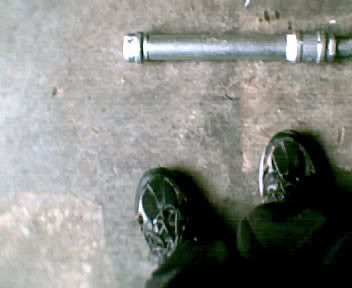 The chamber and my feet again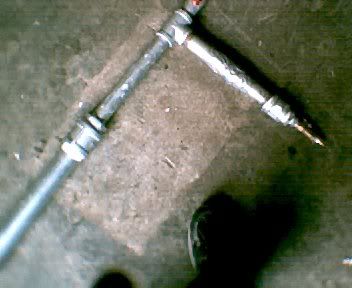 The fill setup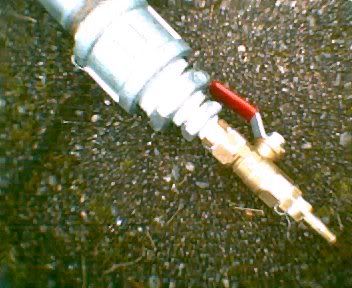 A burst disk that has burst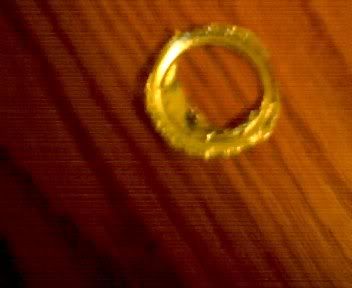 The union I added on
Thats it, tell me what you think
Damage pics coming soon
Update:
Chamber volume incresed and more barrels
Have a 5ftlong 1.5in SDR21 golf ball barrel
10ft long 1/2in sdr21 paintball and marble barrel
10ft long 3/4in Sdr21 barrel(bought the wrong size for another gun that it was meant for use with)
4ft long 1in barrel(rarely used anymore)
Chamber volume was 45.57ci but now it is about 65ci
Put on a 24in long peice of in pipe I had laying around.
Some pics
The KAMG with the golfball barrel attached before the chamber extention
with the paintball barrel on(bent a little I know)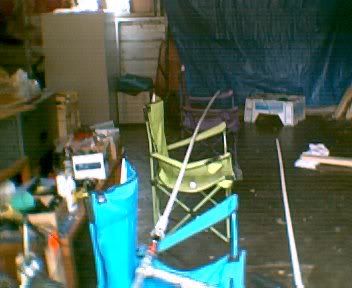 With the 3/4in sdr21 barrel on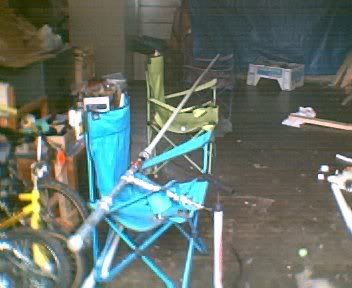 Thats it for now i really hope to get the chance to upload some damage pics today or if I can get hold of my stepmums camera a video.
video
[youtube]http://www.youtube.com/watch?v=BgBBUZzt09k[/youtube]