Well this is my largest, loudest. and most destrustive launcher ive made yet.
I name it the LBDGBM(Large burst disk golf ball mortar)
As the name suggests its most common ammo are golf balls which are quite destructive. But when i need a bit more kick, I will use heavier ammo origionally developed for the KAMG but work for this too.
It has been deemed unsuitable for home use at above 20psi as it is just so loud.
I have only taken it to 50psi but Ill take it to 120 next time we go airsofting and ill bring my cam along. ill possibley have a friend bring his cam so i can take a high quaility vid(youve seen how bad quality my vids are).
And no there is not a triggering system I just pump it till it bursts. But i will add another unionto make a triggered burst disk pnuematic in 2 weeks from now.
And I know the barrel is short for the chamber size but its all I had on me at the moment and Im out of money. Ill get a 10ft barrel at the same time i get that other union.
I
t uses mostly spare parts, the only thigs i had to buy were the union and the end cap. It cost a total of $6.50 to make which i would say is pretty cheap for a gun of this power.
Here are the specs
Chamber:4ft of 2in pipe
Barrel:5ft of 1.5in sdr21
fill valve: schrader valve
pressure source:bike pump(takes a while to pump it up)
valve:1.5in sch80 union
Burst disk material: aluminum foil, wax paper, normal printer paper(only used at low pressure it leaks like mad at above 20psi)
Pic time
Here the monster is, quite big aint it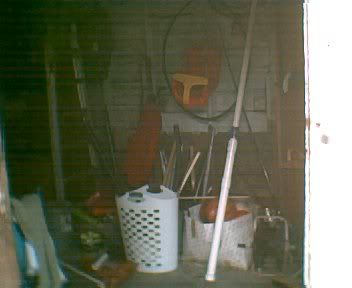 the 1.5in union
It about to shoot peice of wood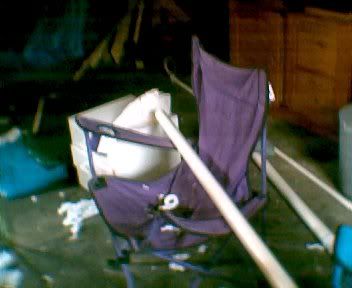 some damage to 3/4in plywood
All done at 15psi except for one which was 50psi and penetrated all 3 layers and went on to make a nice dent in the garage