Well I have been wanting to make this cannon for months. It was designed 3 months ago and I didnt get around to making it until now.
I name it the ISM or It Shoots Marbles
The gun
Specs:
Chamber:
42in of 1in sch40pvc.
Barrels:
54in of 1/2in sch40 pvc(batteries), 60in of 1/2in sdr21(marbles, paintballs).
Valve:
Barrel sealing piston valve in a 1in tee with a 1/2in porting.
Piston:
Cast hot glue with a 1/4in neophrene sealing face and a small piece of a nerf ball for the bumper.
Pilot:
3/4in modified orbit watermaster sprinkler valve exhausted by a blowgun.
Fill setup:
1/8in threaded schrader valve
Pressures operated at:
Normally 60-80psi as it is quite loud at higher pressures and would'nt want to disturb my neighbors. I have taken it up to 140psi but no higher than that until i can get to use it at some secluded place.
Ammo used:
Mostly marbles and paintballs but I do shoot batteries and homemade heavyweight slugs every now and then.
In the making of this gun I cracked 2 different fittings from overtightening. One is the threaded adaptor that leads to the stock and the other is the threaded side of the tee the piston is housed in. Both were replaced rather quickly bacause I to shoot it, BAD.
GGDT says it is capable of 800fps(with light ammo)and over 200ftlb(with very heavy ammo. I dont know if that is very accurate because Im too lazy to go GGDT it again and I cant remember what it said very well.
I am very pleased with how this gun turned out. It works reliably, well, and packs a serious punch.
Also the pump up time isnt too bad which is very nice.
Here are a bunch of pics
The ISM from a couple different angles
The piston valve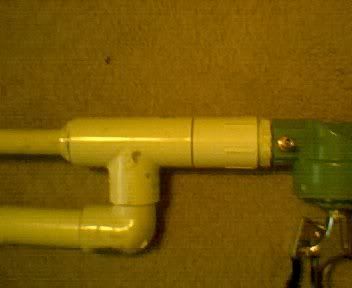 The 3/4in sprinkler pilot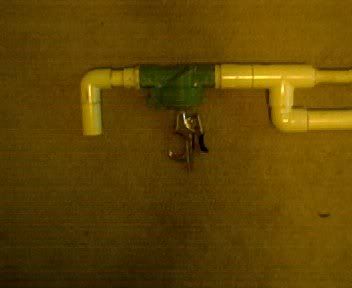 The barrel support(tape will be replaced with a hose clamp)
The "stock" for shoulder shooting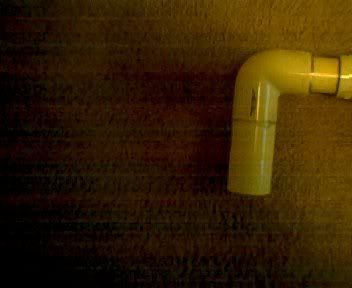 I will give it a paint job tommorow(dark green) and possibly take a vid.
Ill have damage pics and pics of the piston up in a jiffy.