Well here is a little gun I threw together lately.
The name stands for Silenced Piston Valved Marble Rifle(SPVMBR)
Here is the gun
I gave it a satin black paint job(that turned out rather nicely) and I made a silencer for it.
The silencer is not very affective at all, but it does quiet it down somewhat. I realize that an effective silencer needs to have lots of volume, but if I made a larger one it would have ruined the looks.
And I wouldnt go as far as calling this thing a sniper as it doesnt have a scope and you cant shoulder fire it(stupid ball valve).
So here are the specs
Chamber:
24in of 1in sch40 pvc piping
Barrel:
About 40in of 1/2in sdr21 pvc pipe(I havent measured so Im just guessing)
Piston valve:
1in tee with 1/2in porting
Pilot:
1/2in ball valve
Piston
1in wooden dowel with neophrene sealing face bolted on
Silencer
1in sdr21 body
Well so about the power.
The power is very good for a gun so small(as shown in the videos)
And it is loud for its size(as said before, the silencer is not that effective)
I know it is very similar to my
ISM
but I wanted something better looking, and a little more manageable.
So pic and vid time
First some vids, then some pics.
[youtube]http://www.youtube.com/watch?v=fYXiQ7m4yxc[/youtube]
[youtube]http://www.youtube.com/watch?v=w1vAYsnFvkY[/youtube]
[youtube]http://www.youtube.com/watch?v=FkTkumj5gy4[/youtube]
[youtube]http://www.youtube.com/watch?v=3qJAtRHctH0[/youtube]
entry
Exit
The ball valve pilot
The fill valve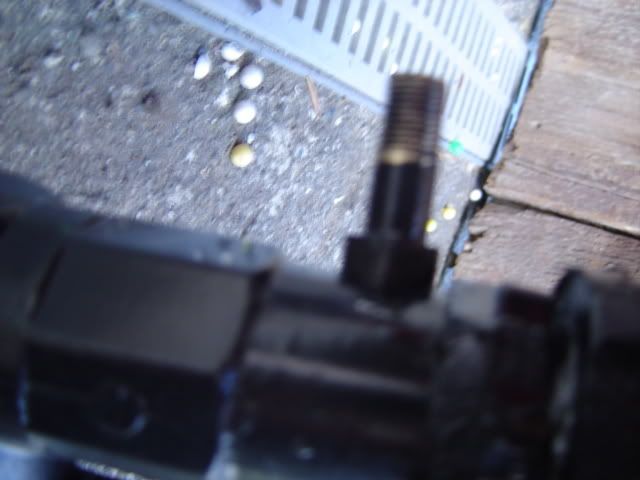 The barrel support
the silencer