After the Completion of
my Shock Pump
I decided I needed a High-powered Cannon to go with it. I also have wanted to make an O-ringed piston, and to have constructed a Breech. MIKE is that "dream" Cannon of mine, Boasting:
Barrel:
48" 1/2in Type L Copper
Chamber:
36" 3/4in Type L Copper
Main Valve:
1/2in Porting Tee Valve W/ O-ringed Piston
Breech:
Sliding
Power:
Estimated
950 FPS with 14mm Marbles @ 400 PSI
Its really not very cleanly constructed, My soldering job was.... not so nice, but all in all im VERY happy to have conquered Copper guns, That and to have a third piston gun up my sleeve.
One of the most Annoying parts of this gun was the F***ing piston. The sharp copper kept cutting into the sealing faces and making it so that i couldnt fill the gun anymore. Finally, i found the problem was that WD40 makes rubber Brittle........ and it was making the rubber easy as hell to slice into. Pic: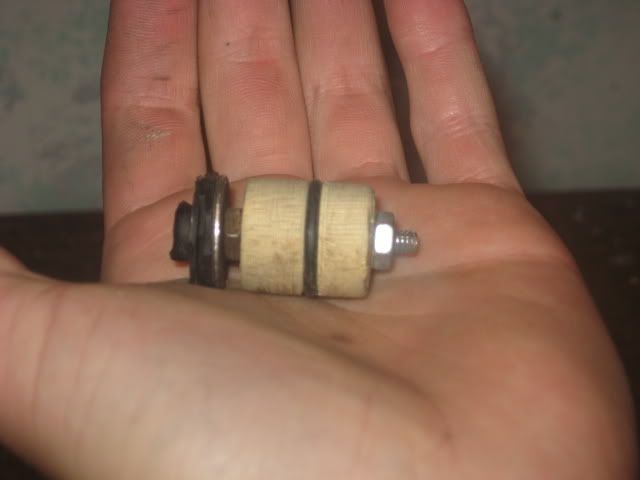 Overall, I am VERY happy with this Cannon, which still amazes me at the recoil i get from one marble. Its astounding. And the noise! Oh man the noise!!!
I
WILL
get some more damage pics up, but for now, I have an accidental blank firing into a textbook (OOPS!!!)
Some More pics:
Main Valve Area
Sliding Barrel Support
Breech Open
Sealing Face
Pilot Volume Reducer