Well this is my third spud gun. I aquired a fire extinguisher and i wanted to use it for the tank. The treads oin the tanks were metric but i screwed in a 1 inch male bushing and it seems to be ok. I modded a sprinkler valve for the first time which was a success. Everything went together ok and i made it with a 1.5" barrel, and a 1 inch barrel. It is going to be a bolt-action ping-pong ball launcher. But i need a coupler before i can put it on the barrel. Tommorow im going to go to the store and pick up the coupling then it should be totally done. Here are the pics-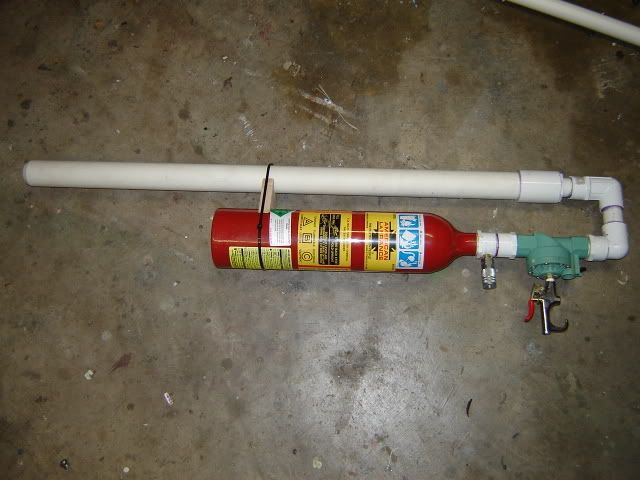 The brand of the fire extinguisher is a american la france...hence the name.
Here is the bolt-action repair coupling-
the coupling slides so i can slide it open, drill a hole for the ping pong ball then close it. So when i need to load, i open the slider put the ball into the hole then close it...it is completly sealed with o- rings too
EDIT: Kinda just test fired it... i filled it up with 20 psi, loaded a snowball into the barrel pulled the trigger HONK!!! ok, disassembled it, lubed the diaphram...take 2...pulled the trigger whoooosh tossed the snowball like 50 feet. With a ball valve at 20 psi it would barely blow it out of the barrel. awesome power.