i couldnt be more happy about my first piston valve gun, it looks cool, shoots hard, pumps fast(1 pump means 10 psi), and a very unique trigger, a friggin pop-off valve.
too bad i used so much plumber goop epoxy its not even funny, all the threads are crooked, and the pilot valve is a cap held down with nothing but 3 layers of teflon and a hose clamp, no screws or glue!
oh, and it is not a 1/2" barrel, for the PERFECT fit for nails, i used some tube that was 1/8" ID, 1/4" OD pipe, that had an end attached that fit perfectly into a 3/4" tee and had a perfect sealing surface for me.
the piston is great, since i mounted the barrel a little off, the piston is a 1/2" pipe with tape, spring, a metal washer, a layer of felt so it is flexible to seal on any angle up to 3 degrees, and then 2 layers of rubber.
since the pilot is not really glued or screwed, i wont shoot higher than 40 psi.
leave any comments but dont comment on it's looks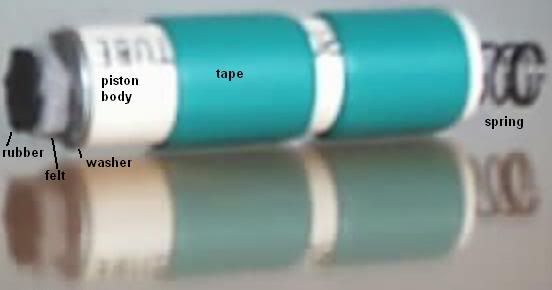 does look like a m16 without a stock, doesnt it? the pump looks like a m203 attached.
i see a white gun and i want it painted black. gonna do that tomorro or someday.
oh, does any1 have any sort of personal techniques? when i epoxy a thread, i epoxy, teflon, epoxy again then teflon again then hose clamped.