Hello everybody, I'm X3, from France and I will show you my home made airgun, inspired by all creations seen here !
Quick description :
- pressure rating : 8 bars/110psi at the moment
- trigger : hose gun (for gardening !)
- air tank : aluminium water bottle (600 cubic cm)
- aluminum barrel 1m by 14mm ID
- breech loading
- scope 12*20 for accuracy
- piston valve in 3/4" brass tee
- length : 1M05
- hand pump bought in sport store (can pump 12 bars/220psi)
Damages :
- a 3mm*60mm dart can go through 1000 pages of newspaper (annuary?) or 20mm of wood
Pictures :
Large view, trigger setup and air tank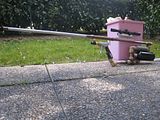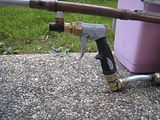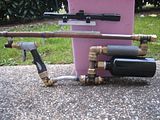 Air tank, breech loading with ammo, and handle for breech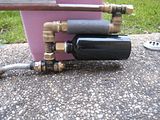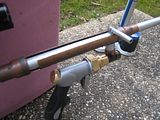 Scope and handpump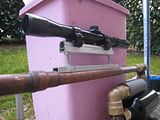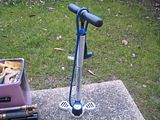 Tell me what ya think, thanks !
PS : vids will arrive soon !