This is my latest installment (made about 4 months ago but wanted to credit it the proper writeup) . the spec are
# 50mm chamber 60cm chamber
#40 mm sprinkler valve
#16 mm,70cm barrel
#High flow sandblasting vent valve.
#zoomable 3-9x40 tasco scope.
#laser sight
#bipod with lipschitz bracket
#machined stainless steel bolt
#pump action loading
#17.5 mm breach
#muzzle break
#machined bracketry, rails and couplings
Btw i fill this gun to about 200 Psi
Yes i know that you will say "you should have used a piston valve" but i had this valve in my shed, it matches my aesthetics and i get decent power out of it.
I painted this gun with a really good, solid finish paint. I hope you can see this with the pics. I didn't paint any a the stainless surfaces naturally because they look so damn good and don't oxidise. I did however paint the steel because the paint reflects the light really well and it fitted into my guns theme.
This gun is probably the last pneumatic i will make because i have solved the problems of all my last guns.
http://www.spudfiles.com/forums/my-1st-rifle-t3571.html
and
http://www.spudfiles.com/forums/svd-pne ... t7871.html
Problem number /solution with this gun
1. When something breaks down the gun is hard to strip down.
This gun strips down quickly because i used pins,bolts and cam locks.
2.Rate of fire was lacking
The high pressure large volume pipe allows for multiple shots, the pump action also allows quick simple loading.
3.I hated having to use wading to seal the marble in tight.
I was lucky enough to find a very rare bit of pipe in my uncles custom machine shop. This pipe was 16mm (standard marble caliber). Two metres of very solid, very straight pipe.
4.The breach loading systems were either having to use wading to prevent the marble rolling out the end or use a system that takes some of the power (blowforward bolt etc).
This was solved when i machined out the breach in the barrel to 17.5mm to allow for a high tensile strip of metal. this strip is welded onto the inside of the bolt to slip under the marble and push it against the roof of the breach. Then when the air hits the marble the strip disengages and allows the marble into the 16mm pipe.
5.Accuracy wasn't all that great on previous versions.
The accuracy was greatly improved (see target pic) by having increased power,precise barrel,solid scope rail assembly and adjustable,adaptable and solid bipod. I also got the weight distribution just right which suprisingly help allot.
The thing i like the most about this gun is how solid my workmanship was. This gun receives a bashing (dropping it on concrete) almost every time i use it to hunt yet it still stays on target and hasn't once leaked or broken down. i once dropped it out of a tree when i was perched on my single plank vantage point. i attribute this mostly to having solid welds and making everything possible metal.
My beautiful marble sniper. Note the spring that pushes the bolt forward when let go and the slip rings which are are holding pins in position, all in the name of the quick strip.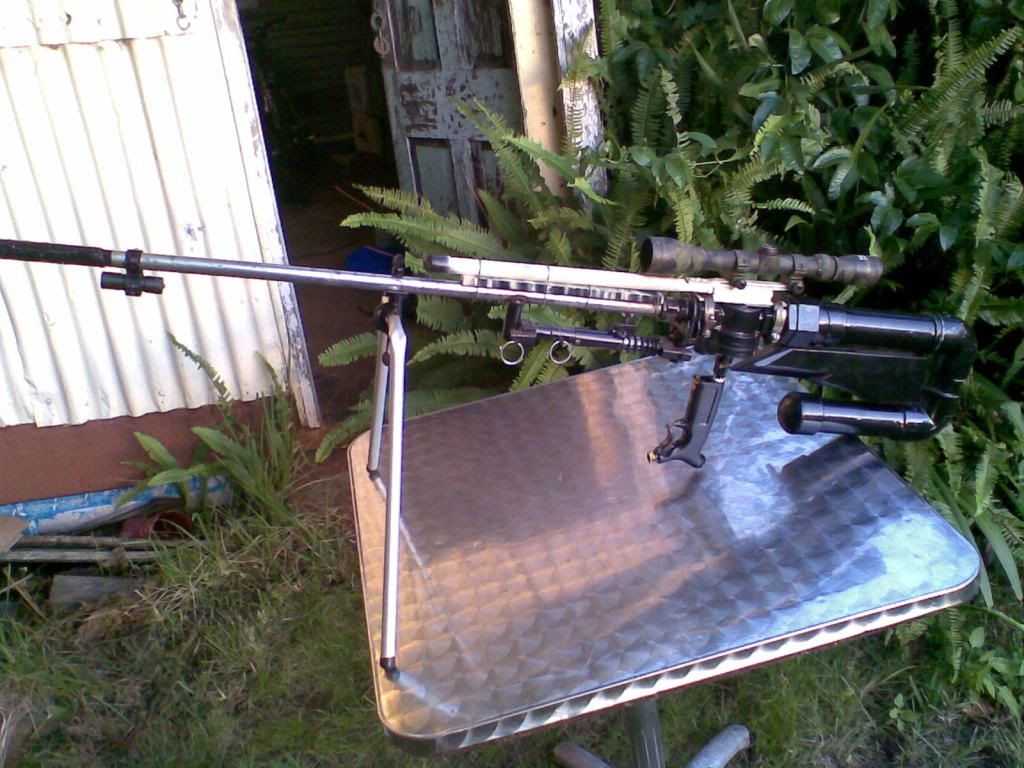 My tropical property, this is a good target shooting vantage point.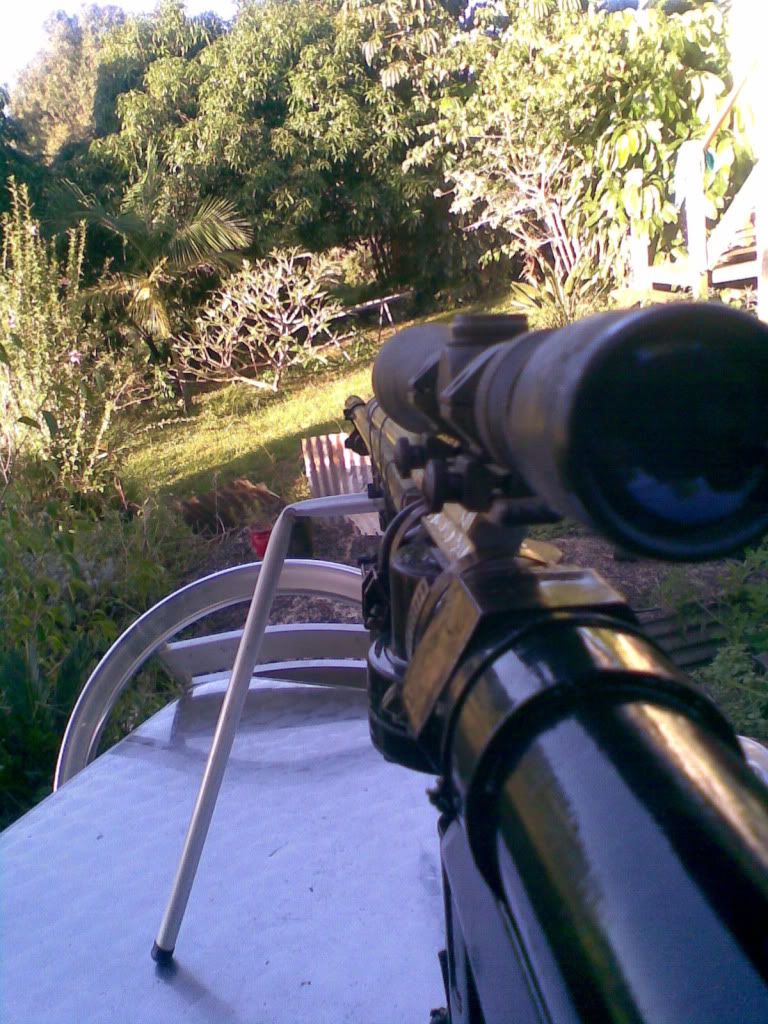 Looking a part of the surroundings.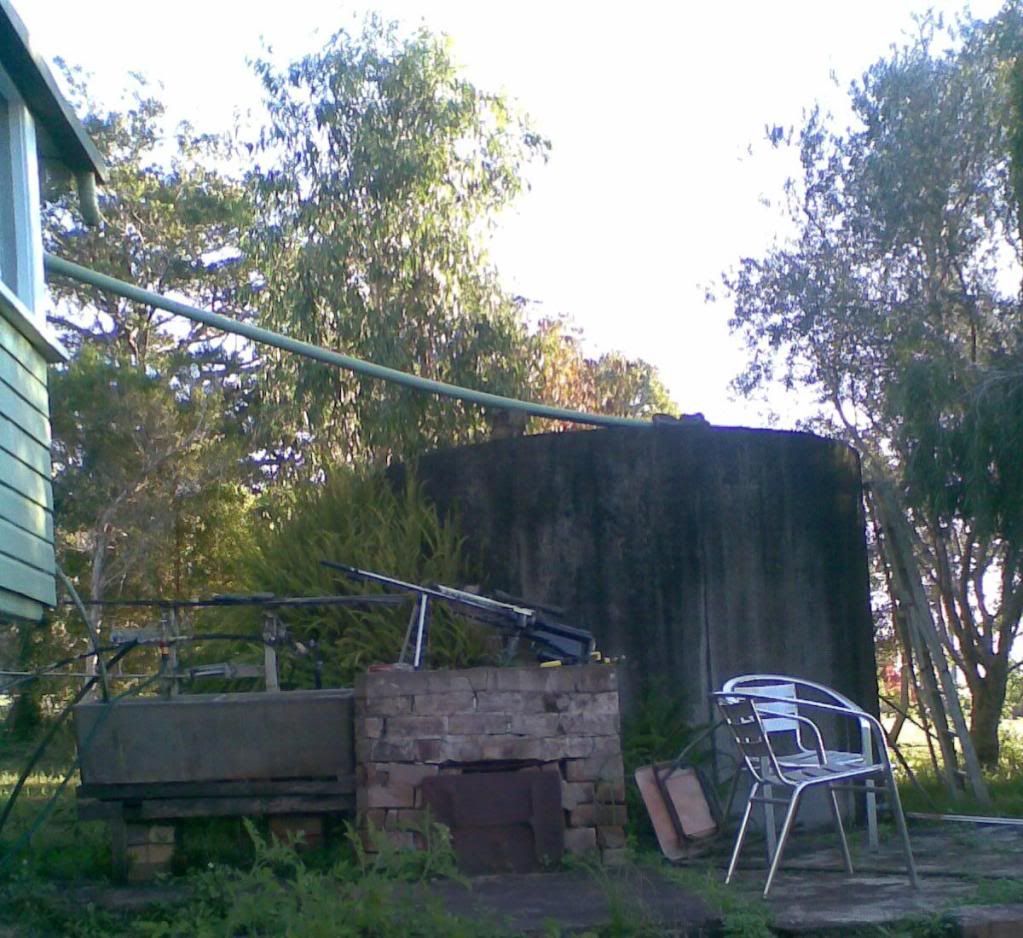 scoped view.
This spread was at 30 metres (at this distance the fine tune windage adjustments came in handy)
Bucket thats getting nailed in video.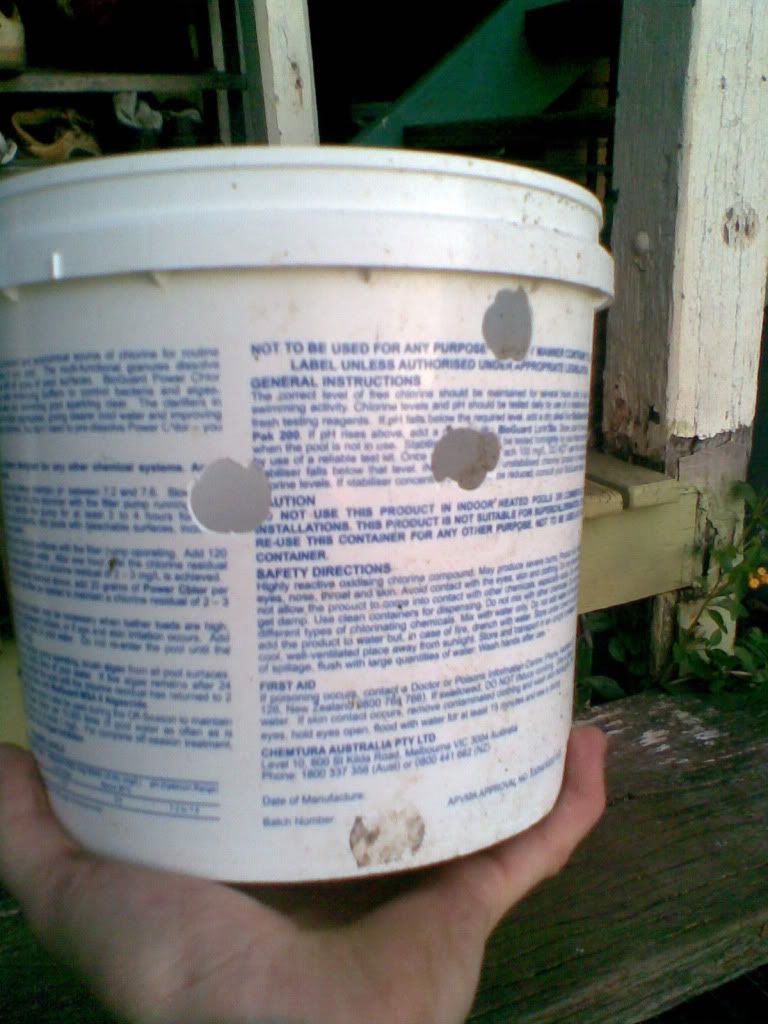 [youtube]http://www.youtube.com/watch?v=yPqi26ttZfc[/youtube][/i][/b]