Here is my newest rifle. It is my first all metal gun, and is pretty impressive both power-wise, and looks-wise. As far as power, I have taken it to 200 psi, and using a crude chronograph, I figured out it goes about 500 fps shooting a mardi-gras bead. I just got a shock pump, so I plan to take it to 300-400 psi. The chamber is made of brass, copper, and steel because I couldn't find all the fittings in one type of metal. the barrel is made of 3/8" steel brakeline. That's actually .375 cal., but It's VERY close to .38, so I just go with that. The wooden stock and body is all handmade. I used a circular saw for the long straight cuts, and a jigsaw for the round cuts. I used a router for the groove where the barrel sits in. I want to try this gun out with steel bbs, but i'm not sure they make then in .38 cal. The gun is breechloading with a simple system where you just push the barrel forward and load then pull it back. It requires no seals. Anyway, this is a fun plinker.
Specs:
Chamber: 3/4" x 4" brass pipe & various fittings\
Input: Clamp-in Schrader valve
Valve: Modified Blowgun valve
Barrel: 3/8" steel brakeline
Operating pressure: 120-200 psi (so far)
Velocity: 500 fps(at 200psi)
Here is a full view of the gun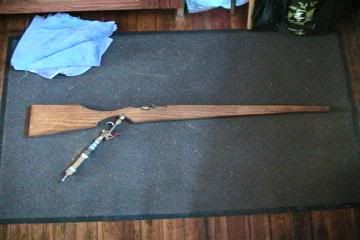 here is a close-up of the back of the gun
Here is the breech closed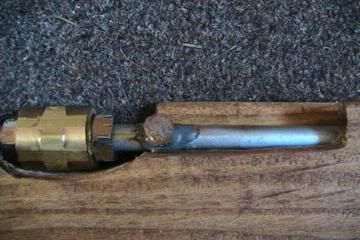 Here is the breech open
Here is an alluminum can shot at with mardi-gras beads at 120 psi. I was about 10' away. The beads went all the way thru and kept going.