Hey there fellas! First I want to say sorry for being MIA this past year. College, girlfriend, and making money took up a lot more time then I expected, which is why I've been roaming the site but never posting.
Despite being distracted, I've still built several cannons (including my 20x hybrid rifle) which should slowly be rolling onto the site over the next couple weeks. Now onto what ya'll care about.
500psi Bolt Action Rifle
Specifications:
Chamber
: 6" long 1/2" sch 40 steel pipe. End welded shut.
Barrel
: 3/4" sch80 PVC pipe. 33" Long.
Valve
: 1/2" QEV piloted by a slide check valve.
Bolt Action
: 12g CO2 cartridge with ends cut off and nut welded to the inside so handle can be screwed in. Barrel reinforced by 1" type m copper pipe.
Ammo
:8g C02 cartridge cut in half and the nose filled with about 1oz of lead.
Features:
Trigger operated slide check valve-Fast reload
Built on a composite rifle stock for a SKS rifle.
Pressure Chamber hidden in grip.
Obviously it's far from finished, I ran out of time and had to leave it and go to college. But I have plans for when I get back.
Future Plans:
-Find a proper return spring for the sliding check valve.
-Seal the bolt handle into the bolt with epoxy. Right now there is a gap and it lets out a lot of air.
-Glue barrel into copper pipe. Right now it is just held in by friction because I wanted to be able to disassemble it to fix things.
-Bondo all major gaps and sand smooth. Finish with either matte black or desert camo as a paint job.
-Add weaver mount for scope.
Rifle: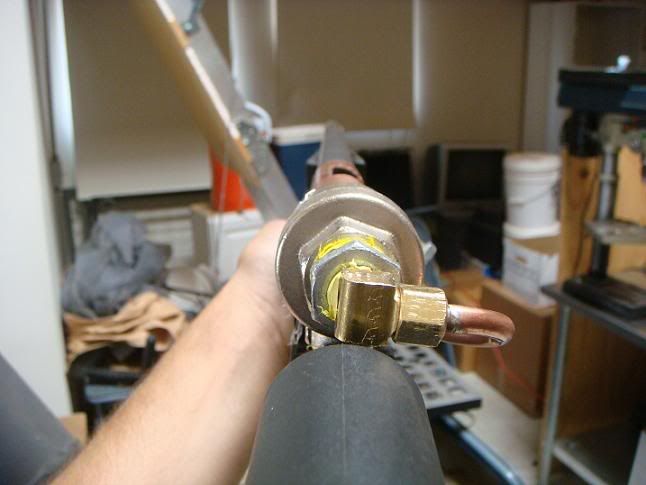 Trigger Mechanism:
I soldered two pieces of copper together to give something for the trigger end to push against and slide the valve body forward.
The trigger is a piece of 1/4" mild steel rod I ground down and bent. I used coat hanger wire as a retaining pin.
Pilot valve closed and filling chamber:
Pilot valve slid forward. QEV has been piloted and filling connection is closed: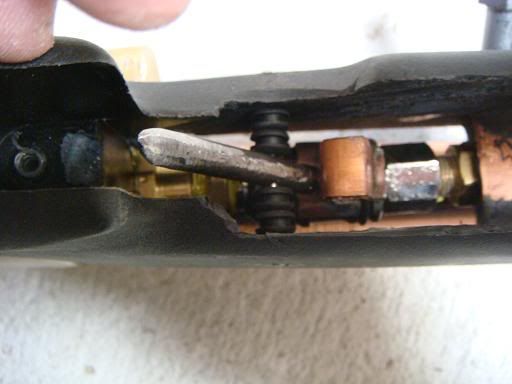 Videos:
[youtube]http://www.youtube.com/watch?v=yD6mE8ZXO4A[/youtube]
[youtube]http://www.youtube.com/watch?v=3tPoVwA2iIA[/youtube]