This is my first *working* pneumatic. It is my second attempt at a PVC barrel sealer, the first was a dismal failure. I posted a helpme/buildlog
here
.
The whole thing:
and a cat
no I do not shoot cats
Specs:
This launcher features a 2" barrel sealing piston valve, piloted by a 1" sprinkler valve. The barrel is 120cm of some form of PVC with a 43mm bore (I don't think its sdr21). It fits golf balls PERFECTLY. The muzzle attachment is simply to protect the end of the barrel when I place it on the ground to unscrew the pilot area, plus it looks the part. The chamber is 80cm of 2" pn12 PVC. The pilot area features a male quick connect fitting, so I'm tethered to an air compressor however the launcher has semi auto capability. Right now I just use a bolt/breech loading system, seen below:
The hole is actually from a piston failure, but coincidentally is just the right size for a golf ball.. hmmm. The sleeve is 2" ABS.
The piston is a deodorant can, cut to length. A bolt was epoxied into the end of it, and some PVC was placed inside the cut end and epoxied to reinforce the thin aluminium walls of the deodorant can. The end was then epoxied up. The sealing face is just a neoprene washer.
This is the pilot area:
And disassembled: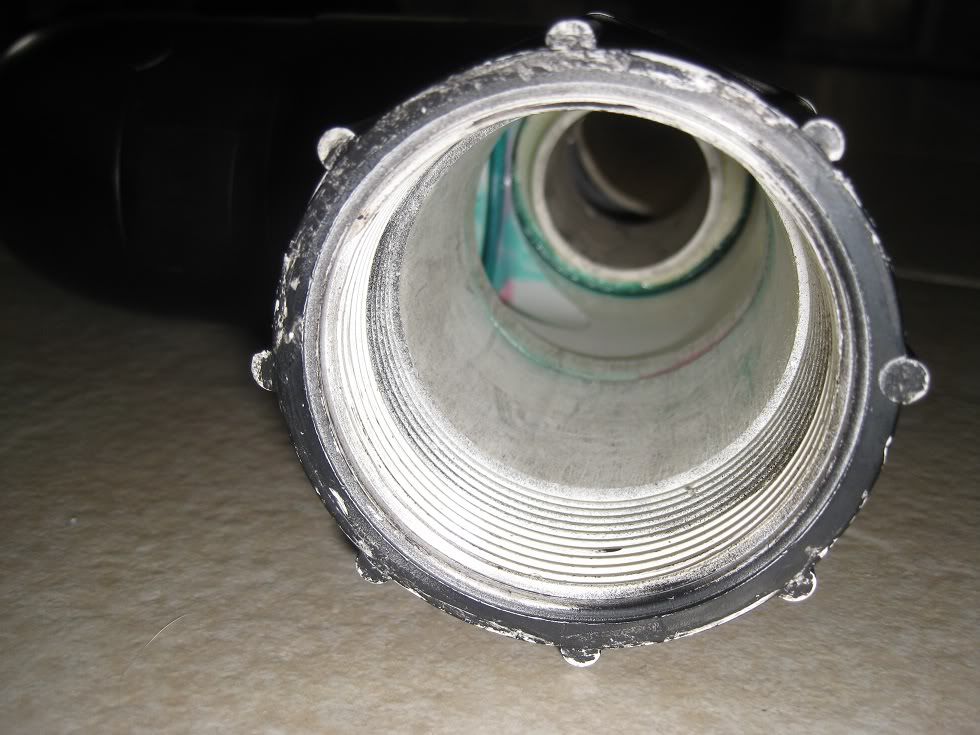 I've ordered 60 golf balls off ebay, they should arrive within a few days, then I'll get lots of damage pics/vids. This thing works consistently at 100psi, and is very loud. Its not 100% complete, but as i'm moving into the city to start university soon and cannot take this with me into an urban environment I thought I may as well post it - its as complete as its going to get. I was going to fix the bolt to get a better seal and paint it, but other than that its all done.
KITTEH!