DAMAGE AT BOTTOM WITH VIDS AND PICS
MORE UPDATES AT BOTTOM
CINDER BLOCK SHOT VIDS AND PICS AT BOTTOM
PAINT JOB PICS AT BOTTOM
Here is my new golf ball gun. Just your run of the mill 2" piston valve with Hubb's design of piston. I have to thank Hubb a lot for this build as he helped with a few things- The piston, modding blowgun, adjustable hop-up, detent to come also. I also have to thank MrCrowley for the inspiration to build this, it was pretty much modeled after his cannon with a different piston and different stock design. Heres the specs:
Chamber
- About 7 feet of 2" pressure rated PVC
Barrel
- 5 feet of 1.5" sdr 26, yes I know, not a perfect barrel, but I wad the golf ball with some paper towel.
Valve
- 2" Tee 1.5" porting barrel sealer
Piston
- 1 1/4" coupling plugged and with built in check valve
Pilot valve
- 1" Orbit modded sprinkler piloted by modded blowgun
Bumper
- Currently some car wash sponge foam and rubber disks, I don't trust it. I put a little piece of rubber garden hose in the inside to reinforce it and open up the hole to the pilot more. I will upgrade as soon as I can get something better.
Until then, I'm sticking with 30 psi.
Which seems to be enough, because it can already punch well through my wood fence, which is about a half inch thick. The golf ball goes past it about 30 more feet.
Pressure gauge and paint job, black fittings and camo pipe, to come when the parts arrive in about 10 days.
I only got one video of a low pressure test fire-
[youtube]http://www.youtube.com/watch?v=EAbOOwlK7mg[/youtube]
This thing is a beast. It is so loud when dry-fired even only at 30 psi. It stands 7 feet 7 inches muzzle to shoulder rest.
Some pictures of the valve:
Valve:
Pilot:
Piston:
Closed: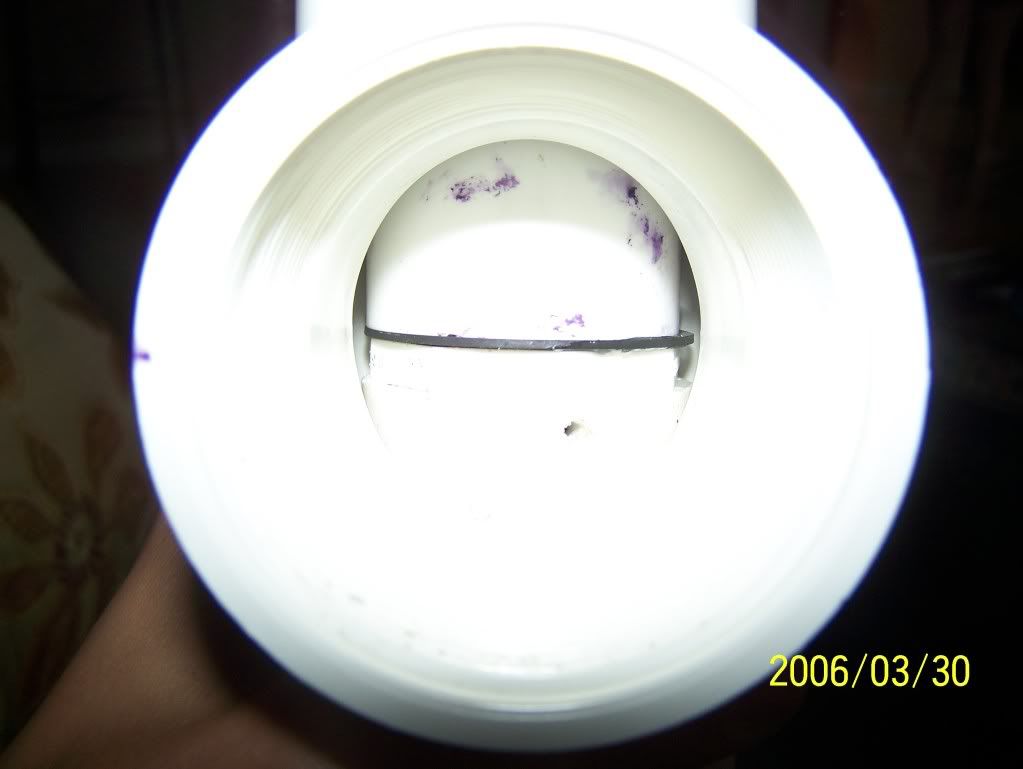 Open: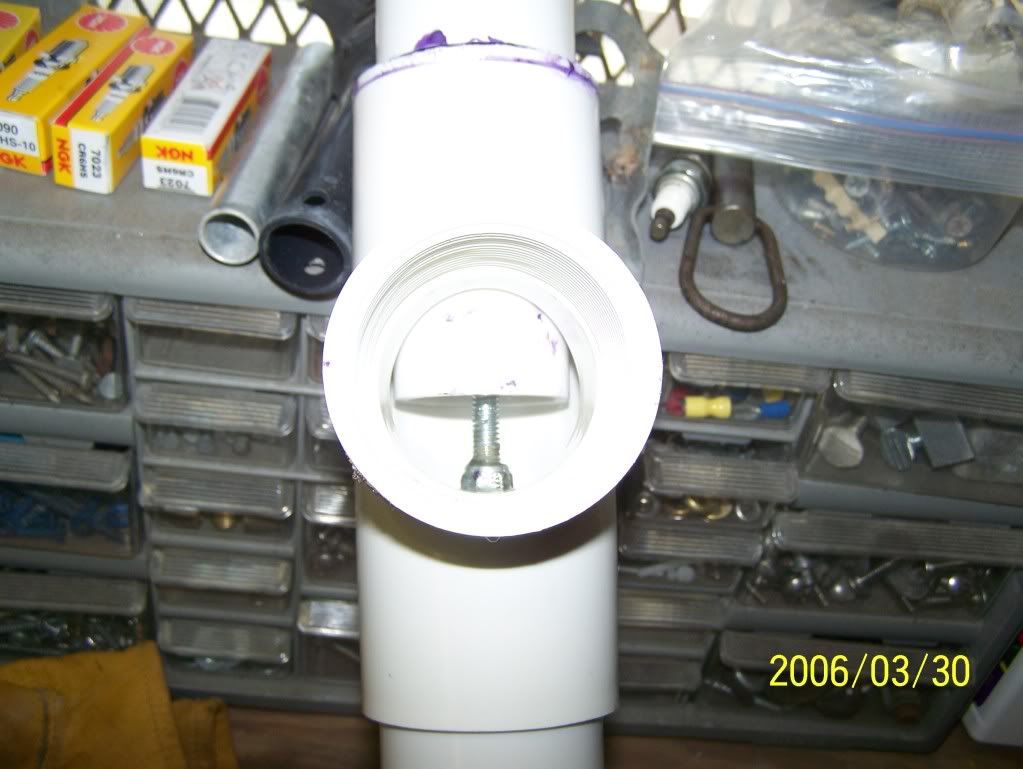 From front:
Bumper, I'm scared it isn't enough...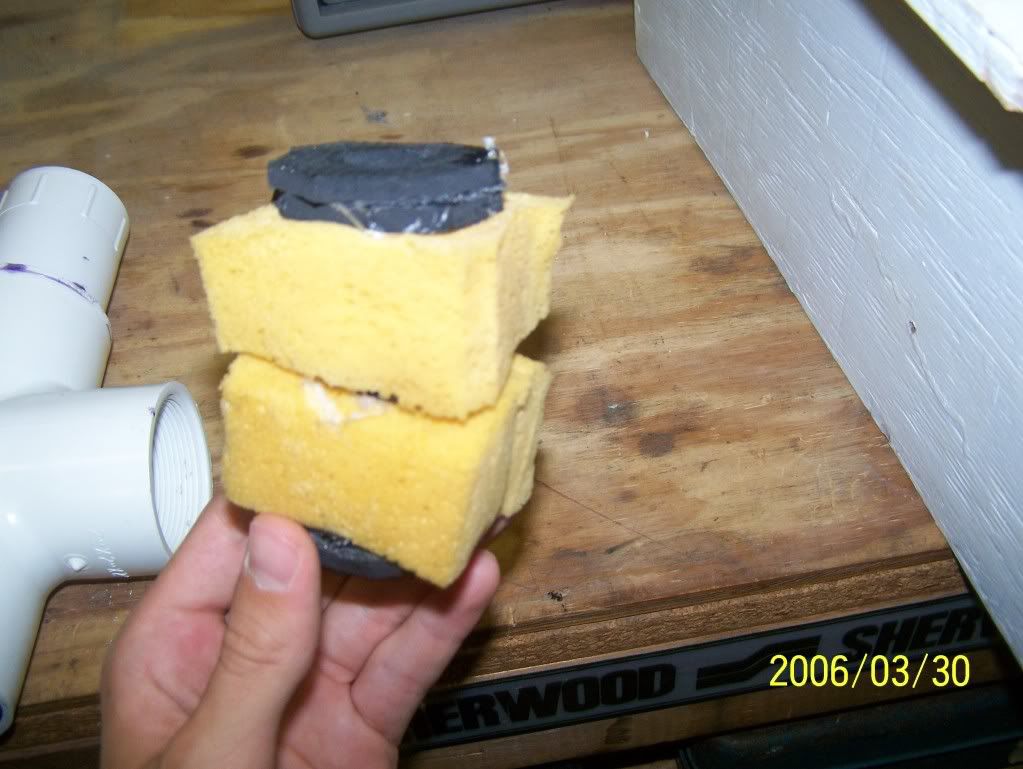 Some pictures of the whole gun now:
Standing up, together:
Back:
Middle:
Adjustable hop-up W00t!:
And that's Superna
*Updates soon*
I have added a new bumper, it is a raquet ball cut in half with a hole in the middle. I have taken it up to 60 psi now. Do you think I should go higher?
DAMAGE!!!
Hole through fence at 30 psi: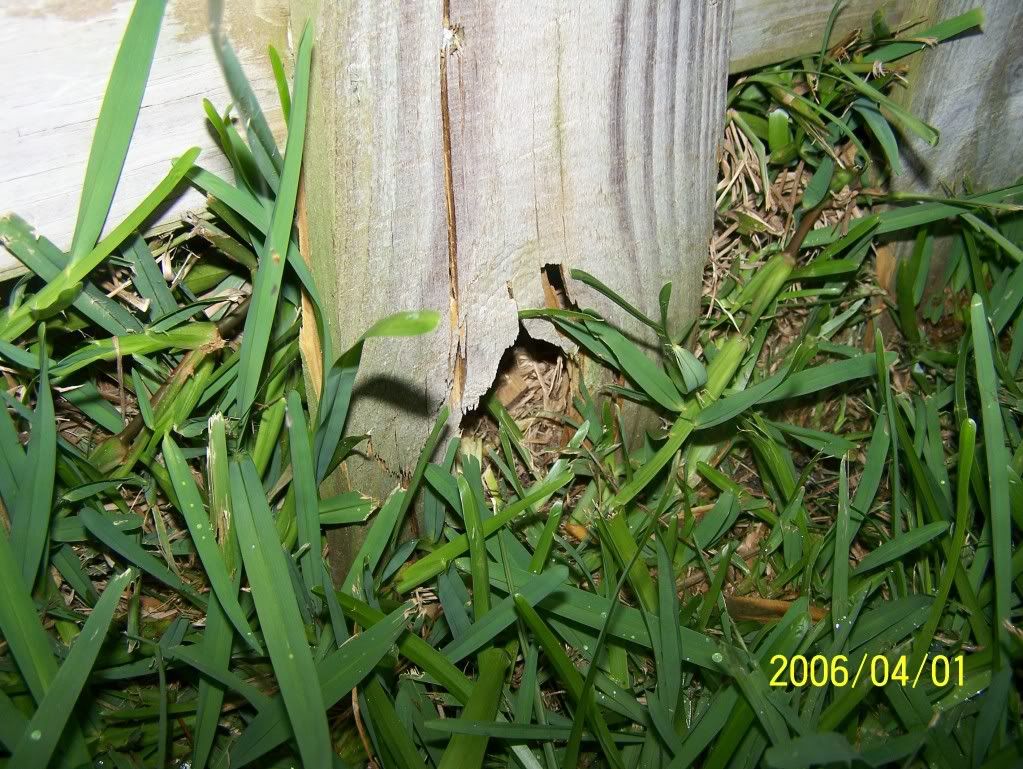 All the shots after here were done under 60 psi.
After first test shot at wood plank:
Note recoil on the first two videos!
Damage video 1:
[youtube]http://www.youtube.com/watch?v=7mK7EUgst_w[/youtube]
Damage video 2:
[youtube]http://www.youtube.com/watch?v=3J1WfP007Mc[/youtube]
Damage video 3:
[youtube]http://www.youtube.com/watch?v=8XagD-GX6hQ[/youtube]
Damage video 4:
[youtube]http://www.youtube.com/watch?v=ektHG2wJHhc[/youtube]
Damage video 5, sorry for the bad quality. Too bad, it was the best shot. The wood got blown to smitherenes:
[youtube]http://www.youtube.com/watch?v=4bPvN1YTPjs[/youtube]
After all shots (lol):
MORE UPDATES
Added muzzle break and front sights:
Added rear sights, o-ring detent(thanks Hubb
) and what I call a slide lock bolt action breech: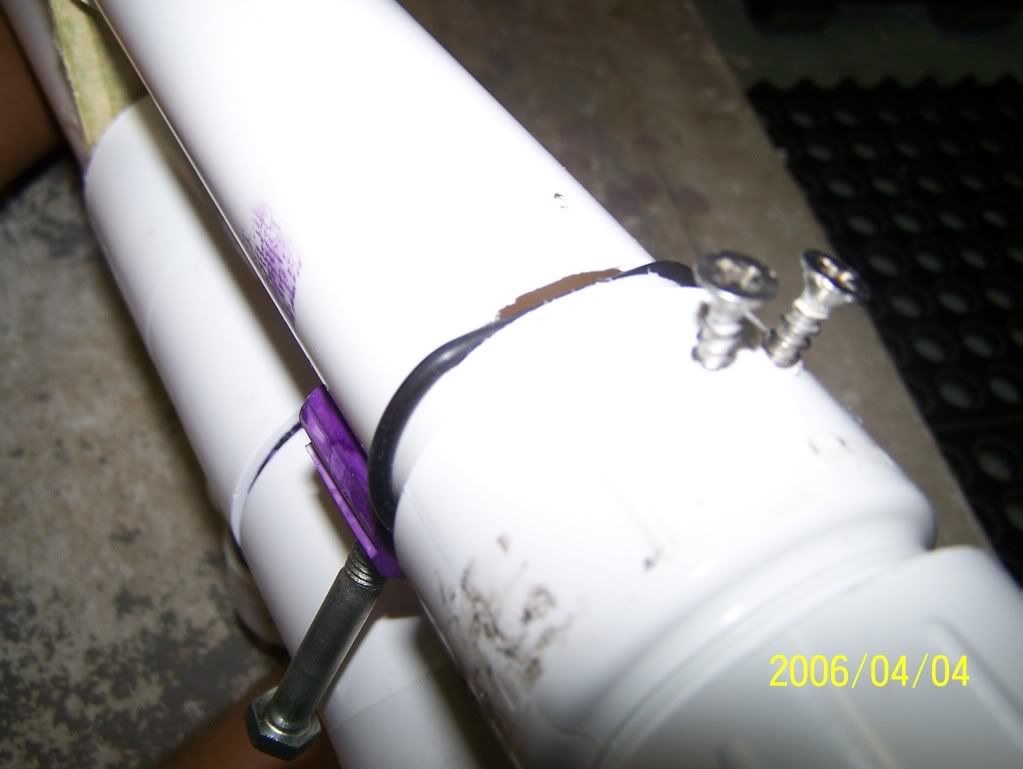 Added better barrel supports with repair couplings that the pipe slides nicely in, no modding. I need to get another hose clamp for the bottom one, for now I just hot glued it.
OMG I LOVE THIS THING
Another UPDATE:
Decided to shoot a cinder block.
Video:
[youtube]http://www.youtube.com/watch?v=dmN5N6N8804[/youtube]
Pics:
Entry/exit: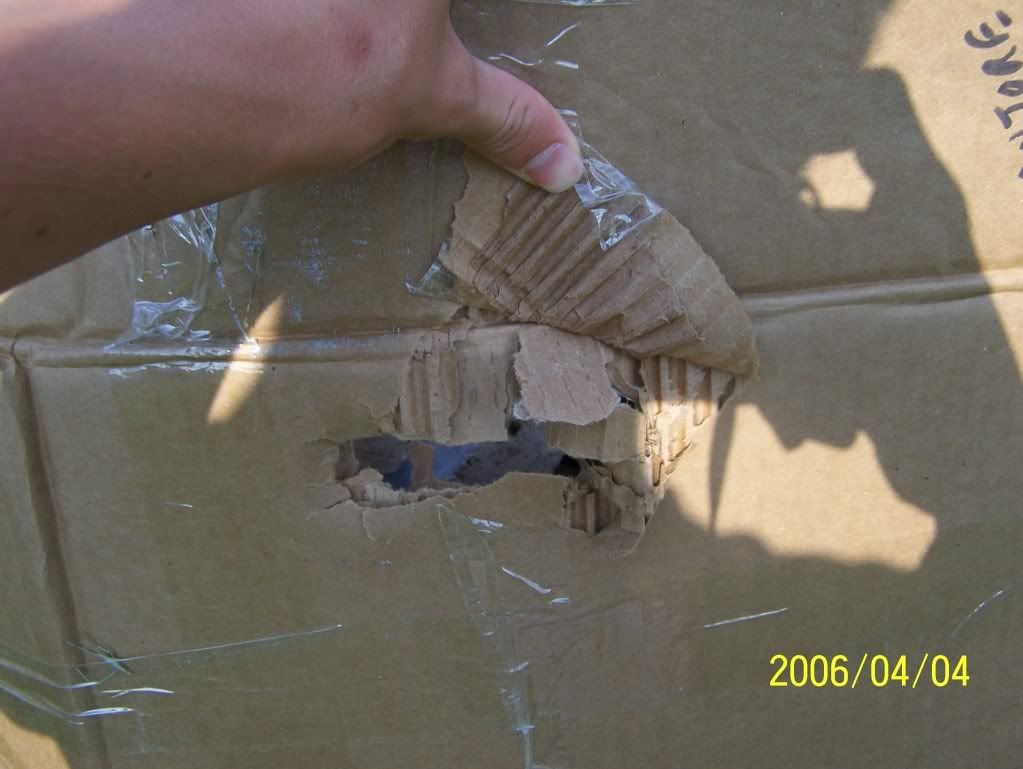 Block:
Path the golf ball took after it ricochet'd off the block, note my boat and camper:
That's what not to do when firing a golf ball gun
UPDATE! Painted the gun, used krylon fusion.
Hope you like it.