Hello everyone
This is a prototype of my first piston actuated air rifle, the photo's that you see here are what it looks like currently, I will update them as I go along. The parts were partially sourced from materials around my home and partially from Bunnings (I'm from Australia). It has approximately a 20mm bore which will be sleeved with (hopefully :p) a .22 rifled barrel.
UPDATE: I will be making a rifle similar to Vh_man's stick pneumatic's (Here).
I will hopefully be able to get the parts within the next 2 weeks (dangnamit Australia!), I will be posting a video soon here too, of how the gun worked. (22/6/11)
Loading
It is a bolt action (literaly, see the bolt in it :p, Photo 3), which works in the proper fashion, ie. only move the bolt not the barrel.
Chamber
The chamber is galvanised iron and is most likely going to be replaced in the future, in the 5th picture you can see the bottom piece of wood, (darker) the chamber could extend to that height and maybe be shortened to only have a slightly larger air capacity at my current pressure, (If I'm going outside away from my air compressor, I'll have to use a shock pump or something of the equivalent) this would mean that my final product will not use the wood shown in the pictures here (the current pictures, 20/06/11 - Aussie form), and perhaps something that would be a single piece stock of Australian hardwood or a tree of similar strength (suggestions please?).
Scope and action housing
The scope that you can see here (20/06/11), is for guessing purposes only, it doesn't actually line up correctly so you may be thinking "why have it?", I can assure you that having a slightly crooked sight is better then not when your aiming at a target 15m away (45ft), plus I didn't feel like making iron sights that obviously don't magnify at all. It is a Nikko 6x40 scope. The scope and action holding piece of wood (picture 5 20/06/11) is just a mock-up prototype of Cyprus, the final stock will consist of this component, the butt of the gun and maybe (depending on whether I enlarge the chamber or not) the front rest.
There is a slight problem with the piston seal which I think I can fix with a new rubber gasket. I am also thinking of adding a piece of tubing to link the tee with my blowgun to a better spot, perhaps under the chamber.
I appreciate you taking the time to read all that
Please tell me what you think about the layout, remember this is just a prototype, and I would also appreciate a link to a topic for a proper, cleaner, bolt action assembly as mine leaks air when the blowgun is pulled. Thanks again,
Keringkien
Photo 1: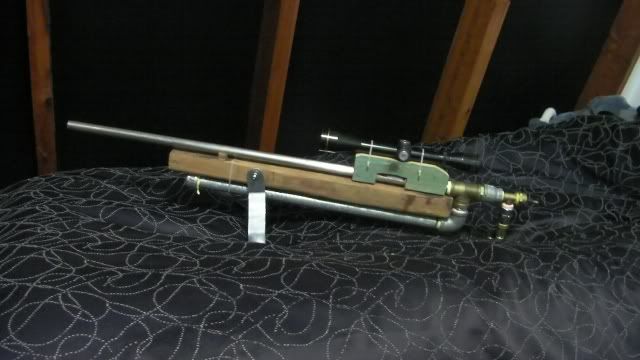 Photo 2: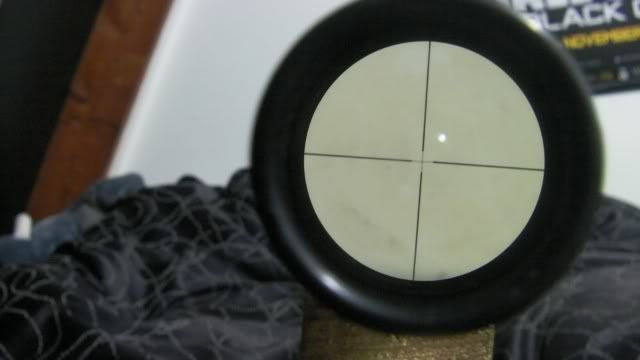 Photo 3: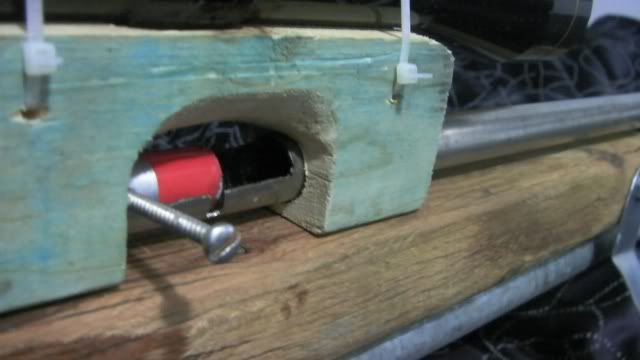 Photo 4: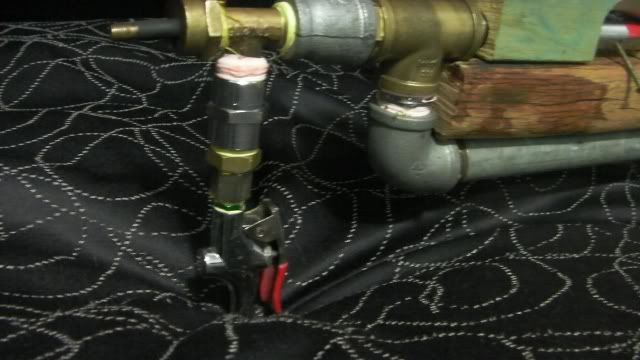 Photo 5: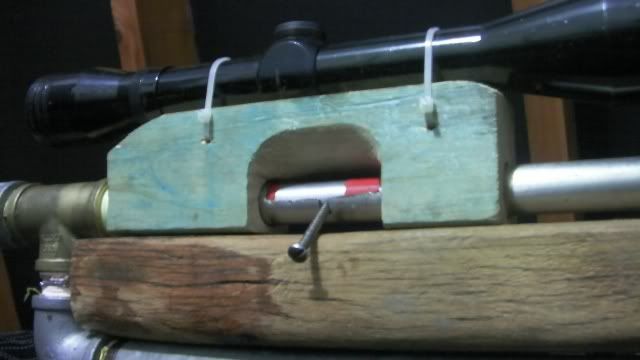 [/url]