Before I begin, this cannon was inspired by
this
. Seeing as it is a
very
rare antique,
I thought instead of hunting for one, it would be more practical to build one.
Plus, this gun was practically free, all the parts were either lying around the house
or scraped from previous projects.
I'm pretty sure this is classified as an elastic compressed dart gun. It uses
high strength surgical tubing to plunge a bike pump, which is rigged to a barrel.
It is triggered by a ball valve, which pinches the piston when closed.
When the valve is opened, the plunger quickly sinks, shoots air through the barrel,
and sticks a dart into whatever was on the business end.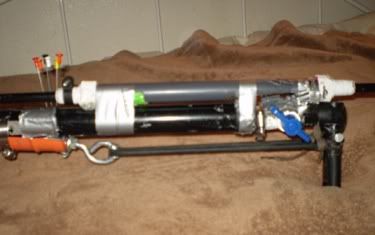 I used several hose clamps to secure a caulking gun to the bottom,
which now serves as a stirrup, and an anchor for the tubing.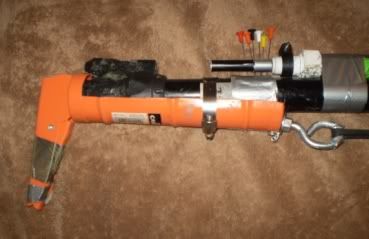 Also, I rigged a PVC construction to the gun, so the barrel can slide in and out, and be loaded from the breach.
Overall, this thing is pretty powerful. It sinks darts at least 1/2" in wood.
I think if I add more bands, I can get >800 fps velocities.
Accuracy is...flawed, but not impossible.
The sudden lunge of the plunger makes this feel more like a shotgun than an airgun.
Plus, I don't have any sights right now, but I think I can mold some from epoxy.
Nevertheless, I almost killed a very dodgy spider with it.