Ok guys here is my new piston idea. I call it a Boost Piston. Thw whole idea is to Boost the psi in the chamber, Get ALL the air in your chamber out of the gun quicker and, keeping it consistant.
How it Works:
There is a air tight piston in the chamber of the pneumatic cannon. There will be 2 guages, and 2 scharder valves on either side of the chamber. In fornt of those Shcarder valves, that pop out into the chamber there is a disc that keeps the pison from hitting a scharder valve or gauge.
First you fill the front of the chamber to a normal PSI as you would do to a cannon of that chamber size. Lets say 80psi. Then after your done filling the front of the chamber(in front of the piston) then you are going to fill the back of the cannon(behind the piston) as much as your compressor can get it. So now you have lets say 80psi in front and 20psi in back.
When you fire the cannon a lot of the air is relaesed quickly, and hard into the barrel, but those last 20-25 psi's are being wasted in the chamber, and arn't giving a full effect to the porjectile. But with the BOOST piston once you get a lot of those psi's out the last 20 psi is being forced out of the chamber by the piston equilizing the pressure in front and back.
This poston should BOOST your projectile range, and speed. It will keep your chamber at a higher PSI and Squeeze out all the last psi's avialable in the chamber.
To get a even BETTER result from this piston, you would need to keep your compressor hooked up to the valve behind the piston, pushing the bolt earlier, faster, and harder than when not being hooked up to the compressor.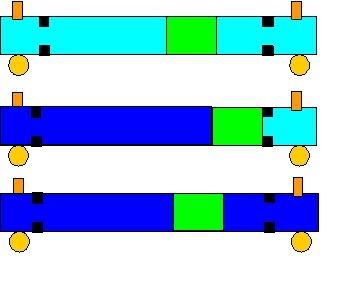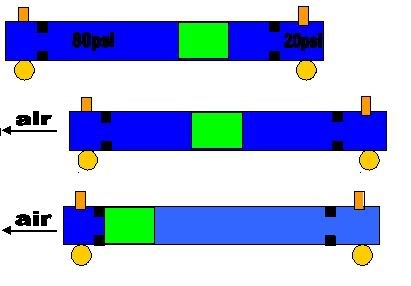 Orange circles: Pressure guages
Orange rectangles: Scharder Valves
Green: Piston
Black: Piston stoppers
Dark blue: High pressure Air, in chamber
Light blue: No pressure, in chamber
What do you guys think of my BOOST Piston Idea?