Update: I shot a wire dart through a quarter, through a life jacket, and into the moulding on my floor.
Sorry for the poor video quality. I was trying to do two things at one and didn't keep the camera right on the subject. And my flashlight (I did this in the dark) made the quarter a little too bright. You can barely make out the hole in the quarter, but the dart stuck in the wall is clear.
I'm impressed. More videos and pics later. I have to see this a few more times!
Edit: better video: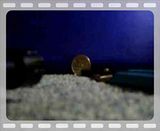 Shot was done at about 35 psi. The dart went through about 3 1/2 inches. The wire is 4 inches. Not bad. The shots at 50 were brutal. They were deep in my wall.
And strangely enough, the points are still very sharp.